Plant Based Family on a Budget
Even if you aren't struggling to make ends meet, you've likely experienced sticker shock on aisle nine as grocery prices soar. Throw in raising a few kids and finally buying a new bra, and the need to stretch your dollar continues.
I'm Brittany from Team Dirty, and I'm going to share how I feed my plant based family on a budget. We live near Seattle, Washington, where the cost of living is one of the most expensive in the United States. We have three kids with an abundance of activities. Eating primarily plant based is important to us, and so is paying the bills. Plant Fueled Life helps me do both! Curious how? Join me for three weeks of grocery shopping to see how we do it.
What our plant based family looks like
I grew up on bologna. Soup was from a can, and muffins were from a box.
My husband, Robby, grew up on home cooking and was a steak and taters guy when we met.
We watched a few plant based documentaries in 2017, found Clean Food Dirty Girl shortly after, and have been mouthgasming ever since 💥.
CFDG taught me how to cook like a plant based boss. Robby has enjoyed nearly every meal and is appreciative of all the time and effort I put into cooking. He represents plants on his union construction site on the daily.
Our teen, Keldan, has a huge appetite and is pleased with plain tofu and a stack of jicama. His form of rebellion is telling me boxed mac and cheese is his favorite CFDG recipe. Smartass. 😂
Our daughter, Kyndel, identifies as a carnivore but deep, deep down, she loves the food I make. Her favorite recipe is the Antipasto Superhero Sub Sandwich.
Brayden is our youngest and the winner of the pickiest kid in the house, but he typically likes at least one of the elements on his plate. He loves the Dirty Wizard's Soup.
A few notes before we head to the grocery store:
I don't use a meal plan for breakfasts and lunches, I grab what's on my mental list. This can vary depending on what I find in the back of the cupboard, seasonal produce, sales, etc.
I split my shopping between multiple stores on different days. I'm not sure if that's on purpose or because I forget stuff.
I have a well-stocked pantry. By pantry, I mean overstuffed cabinets. If you're just starting on your plant based journey, expect the first few weeks to be more expensive as you're stocking up on staples. The savings add up over time.
Pro tip: Go grocery shopping alone if possible. I tend to shop at night when there are fewer humans, and I can get in and out fast. I'm a sucker for my kids' cute faces and tend to spend more money if they're with me.
Wave bye to the kids, and let's go grocery shopping and see how I feed my plant based family on a budget
Soy curls and squashing perfection
My six-pack of Soy Curls for $36 was delivered, which meant it was time to batch Simple Fast Food Frenzy! These are game changers, and recipes like BBQ Soy Curls and Soy Curls Fajitas are easy last-minute meals with pantry staples.
I headed to Walmart since I'm a damn night owl and proud of it! 🦉 I squealed with excitement when I found a squeeze bottle of Tahini! I checked out 15 minutes before closing and spent $114.04.
I hit up Trader Joe's the next day and spent $50.44 on the rest of my produce, frozen dinner, and more. I returned to Trader Joe's a few days later and spent $15.25 on sweet potatoes, fresh fruit, and a loaf of Pumpkin Brioche bread.
Later in the week, I spent $27.00 at a pumpkin patch. I was ooohing and ahhing over all the squash, and my kids just looked at me like I was the weird one. They don't get it! My haul included acorn, delicata, and spaghetti squash.
Pro tip: batching a Wizard Plan can take two to five hours, especially starting out. To save time and stress, pick an easy dinner for the night you're batching. For example, this week, we had fried rice and gyoza. Did they contain oil? Yes, and I give precisely zero fucks since I'm more about progress and less about perfection.
Oh nuts, it's time to stock up
After finding three unlabeled bags of white powder (Tapioca starch? Baking soda? Who knows?!) in the cupboard, I went on a massive organization spree. I noticed I was running low on plant based pantry staples like nuts, seeds, and noodles, so I headed to Winco (a warehouse-style supermarket) to stock up. I decided to batch cook Classic 70s, so I grabbed most of the produce I needed while I was there. I spent $103.26. I hit up Winco every two months or so to restock bulk items—their prices are unbeatable for bulk foods!
I then stopped at Trader Joe's and spent $72.36 on frozen veggies, snacks, and fruit.
I found purple cauliflower, romanesco, beautiful golden beets, and some other items for $30 at a farmers market.
Pro tip: Don't go shopping when you're hungry, especially if you're going to Trader Joe's!
I lived on avocado-sauerkraut toast for lunch that week. I used my first batch of homemade organic sauerkraut, which cost me 90% less than the store-bought fermented brand.
Toward the end of the week, I hosted a dance for our school. After a long day, I wanted to spend time with my kids instead of the sink, so I ordered pizza for $37.65. I put the leftover batched food in the freezer. This is where being flexible helps, and guilting yourself doesn't.
Fall flavors and a freezer win
I didn't feel like shopping over the weekend. But the kids had to eat, and I remembered Molly's enchilada casserole, so I did something similar. I layered tofu crumbles, sour cream that I'd frozen the previous week, Deluxe Cheesy Sauce I'd made & froze the month prior, corn tortillas, and other fixings. I had plenty of leftovers, so I invited my neighbor for dinner, who has loved every Plant Fueled Life recipe she's tried.
Since I stocked up last week, I knew I didn't need much from the store. Simple Canadian Harvest was on my to-try list, and the hubs got me two colossal butternut squashes from the farmer's market for just $8. My only stop was Trader Joe's for the meal plan groceries and snacks for $102.41.
Pro tip: If making a sauce, max out your blender's real estate. If you're a member of Plant Fueled Life, go to the recipe and tap the Make More button until the yield equals eight cups (or whatever the max is for your appliance) and freeze the leftovers. I use Souper Cubes to freeze sauces in one-cup portions.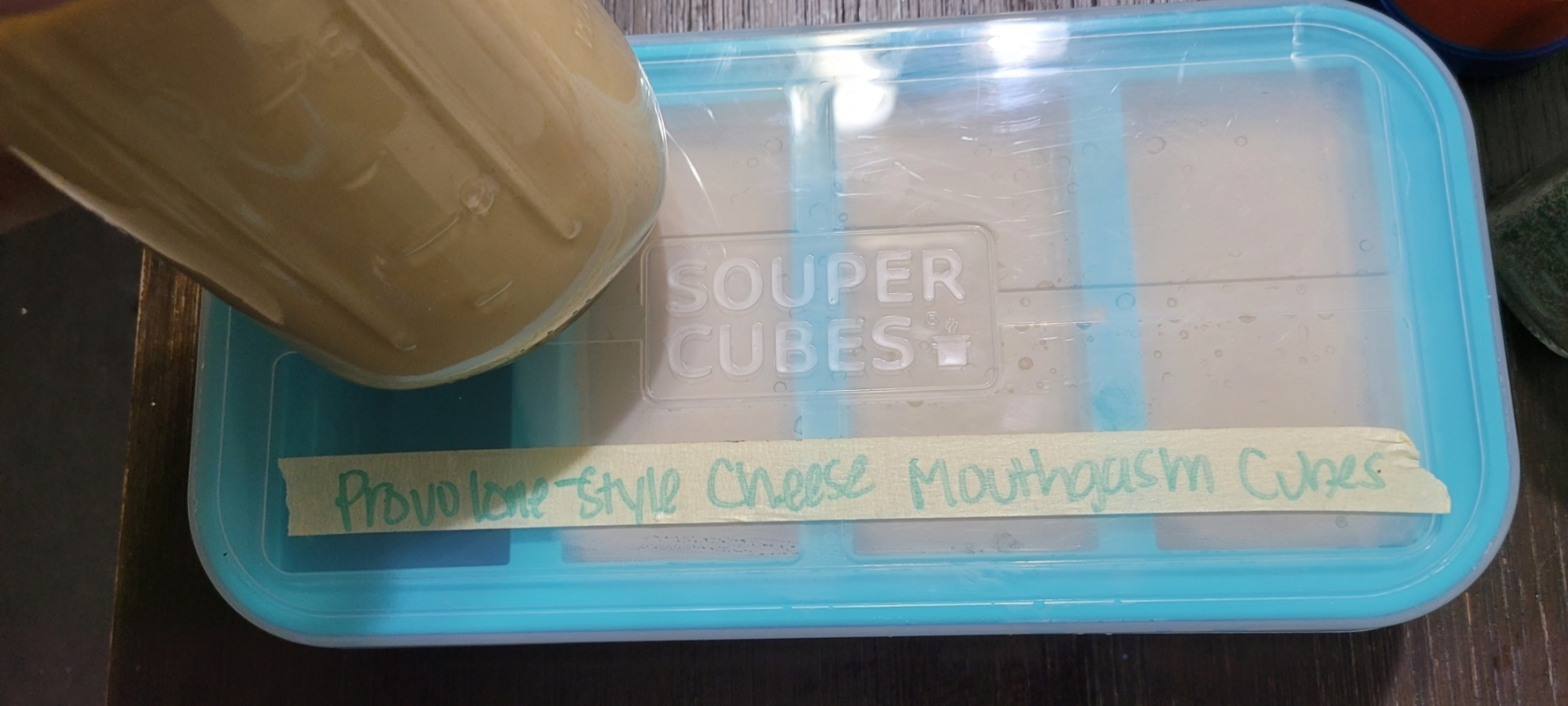 What plant based breakfasts and lunches look like
Breakfast
I usually don't follow any particular recipe for breakfast—I just try not to burn shit. Here's what's on regular rotation.
Cereal with oat milk
Oatmeal or Malt-O-Meal
Vanilla Soymilk Yogurt (so good!)
Waffles or pancakes
Sweet potatoes with crushed nuts and maple syrup
Lunch
Keldan and Kyndel typically eat school lunch. Do I love that? No. But it's impossible to control what goes in their mouths 24/7. I got frustrated after finding wasted food in their lunchboxes, so I let it go this year (easier said than done). 🤷‍♀️ When they're not in school, a week of lunches usually looks like:
Peanut butter and jelly sandwiches
Veggie patties with condiments
Peanut butter and jelly sandwiches again
Trader Joe's Instant Noodle Cup
Meal plan leftovers
Annie's Vegan Noodle Bowls
Is it expensive to feed a plant based family of five?
Let's pretend I'm a mathematician and break down my three weeks of food purchases:
Week one groceries: $242.73
Week two groceries: $243.27
Week three groceries: $110.41
The total I spent on groceries over 21 days: $596.41
$596.41 divided by 21 days = $28.40 per day to eat
$28.40 divided by five people eating each day = $5.68 to feed each person per day
$5.68 divided by three meals per day = Each meal costs $1.89 per person!
Considering this and that a 2021 study by Oxford University found adopting a vegan or flexitarian diet can reduce your grocery bill by one-third, I think it's safe to say a plant based diet is a budget-friendly option.
But let's be honest. What's the cost of not eating more plants?
Cheers to eating healthier and saving money while doing it
Comment below and tell us what grocery shopping looks like for you.
May you always remember your reusable shopping bag (because I sure as hell don't)!
Xo
Brittany

P.S. Saving money is just the beginning. Our community is full of people who have reaped the benefits of eating more plants. Join me and thousands of others in our Facebook group and get ready to change your life.
Fall in love with plant based cooking
Love the food that loves you back
Get instant access to thousands of plant based recipes and meal plans, no credit card or perfection required.