A "Whole-Food Plant-Based Diet" is a term coined by Dr. T. Colin Campbell.
Dr. Campbell has written numerous New York Times best selling books, including The China Study and Whole – Rethinking the Science of Nutrition, and has been at the forefront of nutrition research since the 1970's. (Before my ass was even a concept.)
His research has been vital for understanding the relationship between food and disease.
He is one of my personal heroes (along with Anthony Bourdain – I know, the irony of it all), and I urge anyone who is interested in nutrition and / or health (the two are much more connected than you may realize) to check out his work.
He's the real deal.
The difference between a Vegan diet and a Whole-Food Plant-Based diet (WFPB or Plant Based for short) is that a WFPB diet does not include processed food in any form, including oil and sugar. If you follow a vegan diet, cookies ice cream, potato chips and vegan candy bars are A-Okay. If you follow a Whole Food Plant Based diet, these foods are avoided.
According to Dr. Campbell , a diet filled with a variety of whole fruits, veggies, legumes, whole grains, nuts and seeds is most effective in preventing, treating, and even reversing some of the most common ailments today including certain types of cancers, heart disease, Type 2 Diabetes, and obesity.
The research is out there to back this up and it boggles my brain that people don't know about this(refer to either of the two books mentioned above).
There are lots of reasons why this knowledge isn't making its way into government policies and health care reform, but the main reason is that big profits don't come from whole plant foods. Big profits come from pharmaceuticals (the very thing you'll need if you avoid whole plant foods).
Since the government isn't pushing healthy food as a way to prevent illness and disease, this must be a grassroots change; one individual at a time, one plate of healthy food at a time.
Maybe it starts with one person cutting out soda and then turns into their entire family cutting out junk food completely.
Maybe one person's choice to cut out meat for a month turns into starting an organic garden in their backyard and that turns into green juices aplenty. 
Or maybe the change is a tiny one. It doesn't have to be a drastic all or nothing approach. It can be the decision to read The China Study, or watch Forks over Knives. Or maybe sign up for me weekly Meal Plans. 
Or MAYBE, you're ready to break up with processed junk food for good and clean out some backed up toxins. My 5 Week Plant Based Reset is just the thing that will help if that's the case. This five week program was inspired by the work of Dr. Campbell, and it is designed to rewire your cravings to crave whole plant foods instead of junk.
My point is, everyone is on a different journey with food and health – and that is okay.
Everyone starts somewhere.
There are times I indulge in a greasy Chinese meal – it happens! I am FAR from perfect. When it does happen, I wake up the next morning and get back on track with a huge green juice for breakfast, miso soup for lunch, and lemony chickpea salad for dinner. It's not about perfection. It's about taking baby steps to a healthy lifestyle that will stick.
I created Clean Food Dirty Girl because I want everyone armed with the information that Dr. Campbell (and others like him) have put out into the world. Because when we're armed with knowledge we can make the very best choices for ourselves and our family. And when we have support, it's even easier. That's why our private Facebook group is the best group out there.
I will leave you with a recipe that proves that eating truly healthy does not have to be bland or boring. This mac and cheese recipe is the mother of all plant based mac and cheese recipes.
If you prefer to make this in your Instant Pot, check out my 5 minute Instant Pot version here.
Enjoy EVERY mother-loving bite!
The mother of all Whole Food Plant Based Mac and Cheese Recipes
1 russet potato, peeled and cut into bite-sized pieces (about 1 1/2 cups/ 240g)
1 cup chopped carrot (130g)
1/4 of a yellow onion, diced (about 1/2 cup/ 65g)
1 tablespoon minced turmeric root (or 1 teaspoon turmeric powder)
3 garlic cloves, minced
2 cups water (475ml) plus another 1/2 cup (120ml), divided
1/2 cup raw cashews, soaked in water for at least 10 minutes (75g)
1/2 cup nutritional yeast (40g)
1 teaspoon salt
100% whole wheat or gluten free pasta
Prep and measure out all of the ingredients before you start. This will make it easy to put together.
Place the potato, carrot, onion, turmeric and garlic into a medium-sized pot, cover with 2 cups of water (475ml) and simmer for 20 minutes with the lid on.
After 20 minutes, transfer the veggies (and the remaining liquid from the pot) to your blender.
Drain and discard the water from the cashews and place the cashews to the blender along with the nutritional yeast, salt and the additional 1/2 cup of water (120ml). Blend until the sauce is super creamy and smooth, about 2 minutes.
Cook however much pasta you want, according to the directions on the box, and then strain and rinse with cool water to stop it from cooking. Return to the pot.
Turn the heat to very low and pour as much of the cheesy sauce over the pasta as you like.
Add black pepper to taste.
Notes
Save whatever cheesy sauce you have left in the fridge and use within 7 days.
The cheesy sauce freezes well – just blend it once it thaws out to make it creamy again.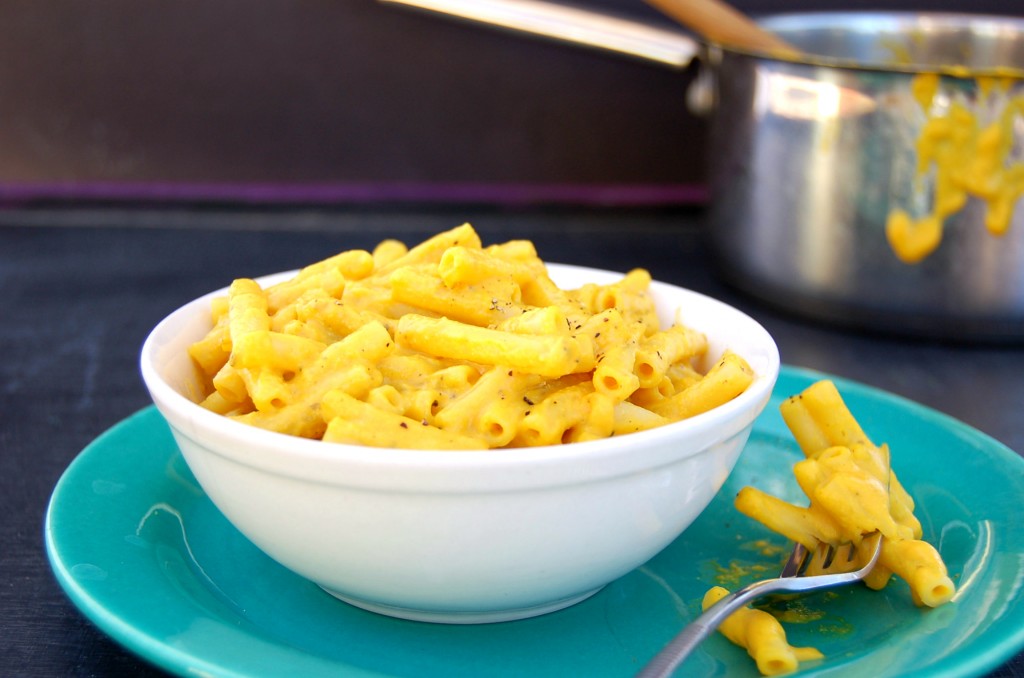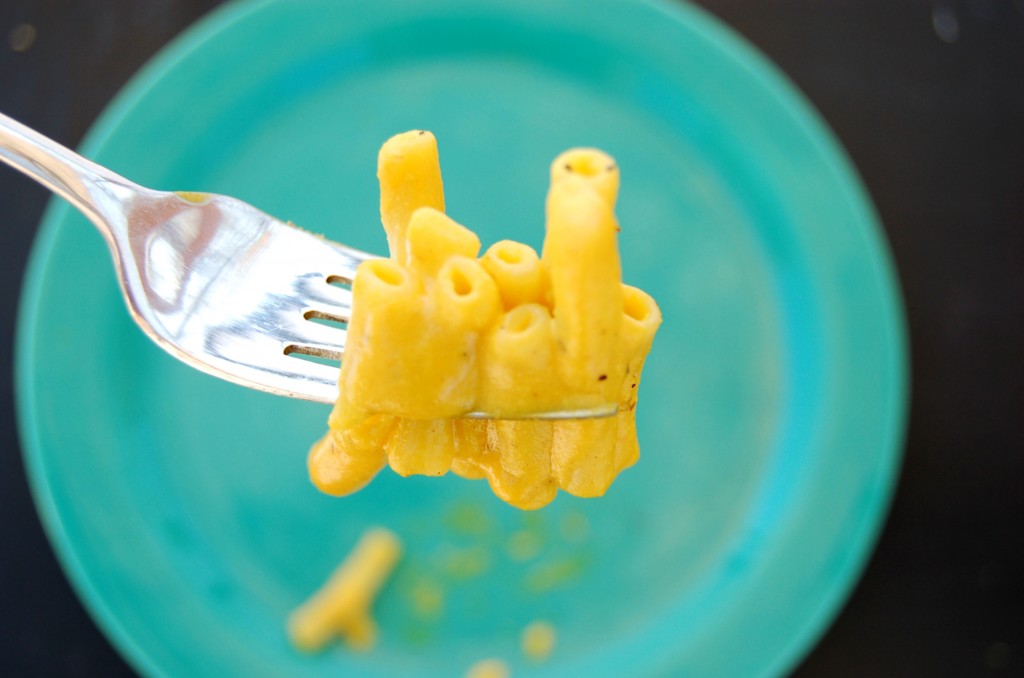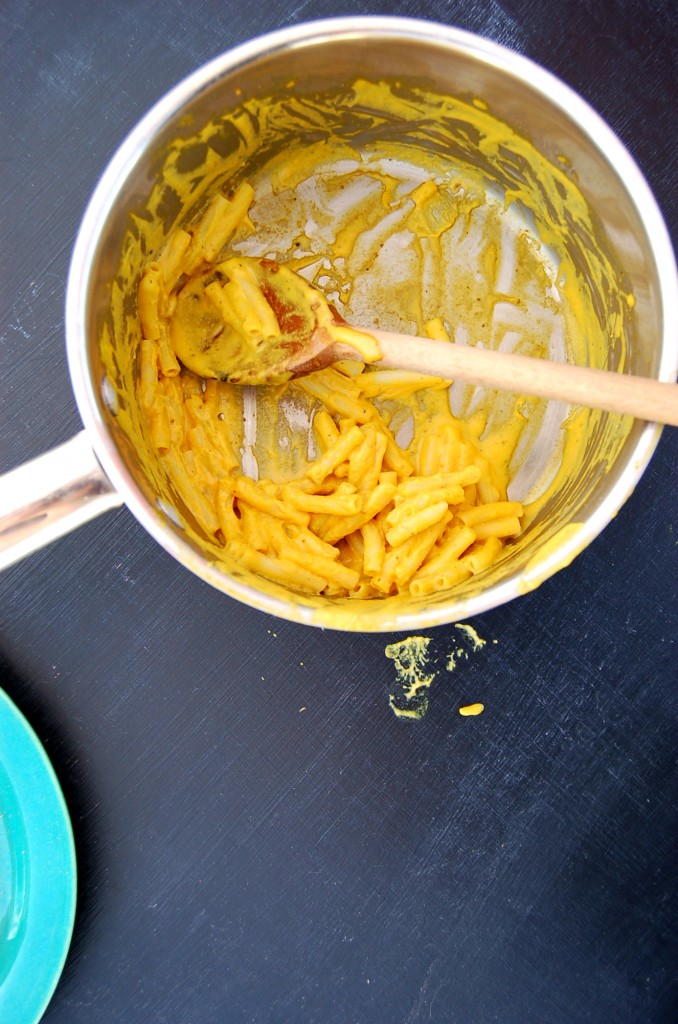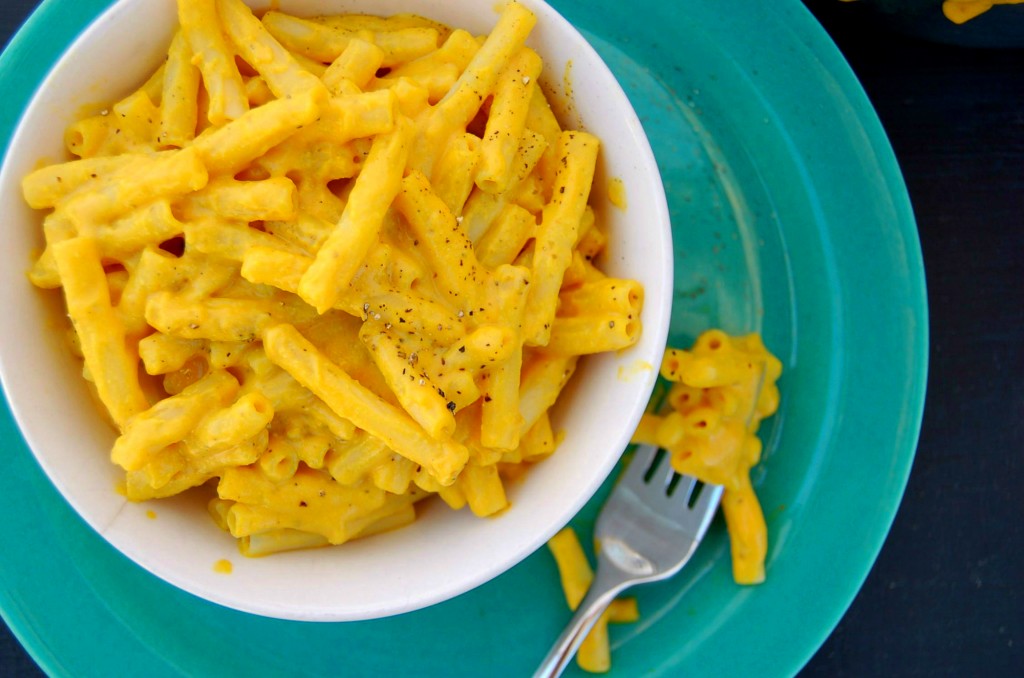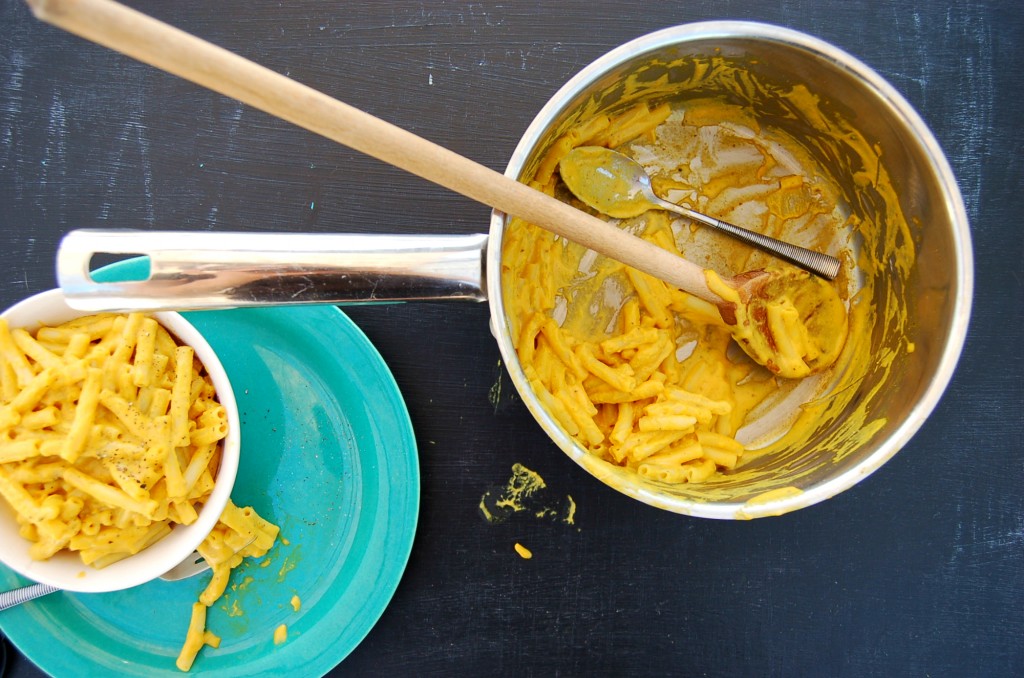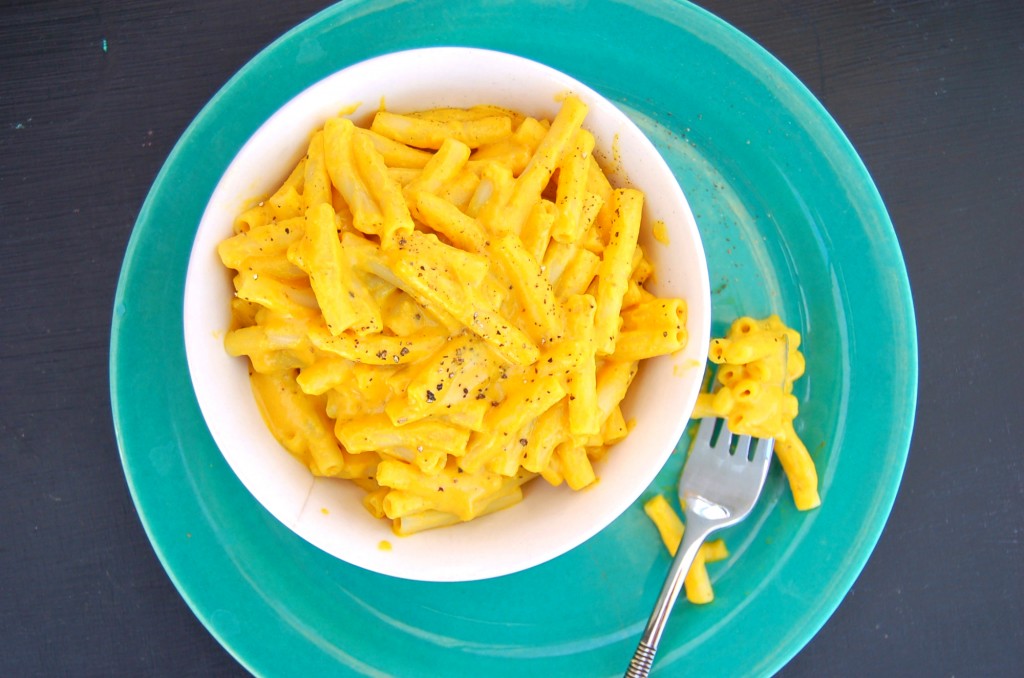 Are you grooving to my jam? Sign up here for my Saturday emails and free Whole Food Plant-Based recipe ebook. Pucker up!