You might think that you're doing your family, friends and loved ones a favor by always putting them first and never making time for yourself, but as it turns out, you're doing them an injustice.
Ouch. I know that might sting. But hear me out – I'll try to be gentle.
Let's start with a quick experiment.
I want you to picture someone who you really love and who really loves you. Maybe your kid, your partner, a parent, your niece or nephew, your sister – picture them in your mind and hold them there. Now I want you to do the following:
1) Picture them happy, content, healthy, glowing, energized, radiant, balanced and doing really well in life. Can you see it? How does that make you feel?
2) Now I want you to picture that same person frazzled, unhappy, unhealthy, weak, sad, discouraged and tired. Can you see it? How does that make you feel?
The first scenario fills you with joy and overflowing gratitude, and the second scenario makes your heart heavy and fills you with ick, am I right?
Now think of that same person doing the same experiment, but the person they choose to think about in those two scenarios is you.
They first picture you happy, content, healthy, glowing, energized, radiant, balanced and doing really well in life. And this fills them with joy and gratitude. And then they picture you frazzled, unhappy, unhealthy, weak, sad, discouraged and tired. And this makes their heart heavy and fills them with sadness.
It's important to hold onto the fact that our loved ones want us to be happy, and seeing us radiant and doing well in life brings them joy. Just like it brings us joy when we see them radiant and doing well in life. Are you with me so far?
Let's keep going.
In order to be happy, content, healthy, glowing, energized, radiant, balanced and doing really well in life, it is essential to take time for yourself and nourish your body, mind and spirit.
And being frazzled, unhappy, unhealthy, weak, sad, discouraged and tired is a direct result of not taking time out for yourself to nourish your body, mind and spirit.
It's as easy and predictable as that.
And here's the reality of the situation.
If you aren't operating at your best,
you'll never be able to give your best to the ones you love – no matter how hard you try.
But when you make yourself a priority and nourish your body, mind and spirit, you can easily show up for your loved ones and bring your best self to the table each and every day.
Last weekend I found myself in the situation of driving my sister around at 9:30 at night looking for my 14 year old nephew because he didn't check in with his mom and we didn't know where he was. Everything turned out fine and it was merely a miscommunication/dead cell phone/teenage boy situation.
The point is, if this had happened when I was still drinking, I would not have been able to be there for my sister and talk her down from a nervous breakdown during our search for her son. I'd have either been asleep and too tired from the wine to answer my phone or in no shape to drive.
Yup – in order to help other people with their shit, we have to have our shit together first.
Okay – I've prepped you. It's time for the fuckery reality check, or as I like to call it the Fuckery Check.
Putting ourselves first and making sure we get what we need to be happy and healthy does NOT mean we don't love our family or that we're selfish or self-indulgent. It means that we love our family SO MUCH that we take the time and the necessary steps to make damn sure we're not only there for them, but that we're operating at our best for them as long as we possibly can.
And are you ready for the kicker? Deep down, we KNOW this.
Deep down we are well fucking aware that we need to make ourselves a priority and take care of the only body and mind that we have.
Deep down we KNOW that constantly putting everyone else first isn't good for us or the people who love us and depend on us.
Deep down we KNOW that we aren't being selfish when we eat healthy, sit down for 10 minutes, or go for a walk.
Are you ready for the real kicker? Whether we realize it or not, we use putting everyone else first as an excuse to stay stuck in unhealthy patterns and habits.
Here's how that works.
If we take the time to make ourselves a priority every single day, we might just have to skip TV and go for a walk instead.
We might have to carve 10 minutes out of our busy day to meditate.
And we will definitely have to say no to crappy convenience foods and swap them out with homemade, nutrient dense meals.
Exercise, meditation and eating super healthy all sound awesome and inspiring when they are IN OUR HEAD.
But in reality, these changes can push us so far out of our comfort zone that we quickly put everyone else first, convince ourselves that it's selfish to make our needs a priority, and never take a damn second to work our shit out.
You see how this works? It's a pretty sneaky move. SO sneaky that we don't even realize we're doing it half the time. Until now (you can thank me later).
So at this point, here's what you now know for sure:
Your loved ones want you to be happy and healthy. It brings them joy.
You can't give your best to the people you love until you are operating at your best.
Putting other people first is often an excuse to stay stuck in unhealthy habits.
So where do we go from here? Don't you worry, I've got you.
Once you've made the decision that putting yourself first needs to be a priority, changing what, how and why you eat is the very best place to start.
This is because no other single thing gives you the array of benefits that eating a diet rich in whole plant foods will give you. Guaranteed.
Everything from sleeping better to pooping better.
From losing weight to feeling energized and happy.
From getting off medications to having glowing skin.
From preventing chronic disease to reversing chronic disease like diabetes.
From changing your entire relationship with food to being more patient and calm.
From lower cholesterol and blood pressure to less inflammation in the body.
From mental clarity to less colds and flus.
All of these results and more are beautifully wrapped up in eating more whole plant foods and less of everything else.
And when you make the decision to do this for yourself and you get on this path, you quickly realize that your family and loved ones will be okay.
They'll be more than okay because not only do they want to see you happy, healthy and radiant, but they'll also benefit from your ah-ha moments and all the new healthy stuff that you'll be incorporating into your life.
This is one of the best examples that you can ever set for your family.
I've mentioned this recipe in past fuckeries and blog posts, but I've never featured it alone. This stuff is like magic and it's ridiculously easy to make. You can sprinkle it on almost anything – salads, pasta, bowls, tacos, stews – you name it, it works.
Ingredients
1

cup

of raw walnuts

110g

1/4

cup

nutritional yeast

20g

1

teaspoon

garlic powder

1/2

teaspoon

sea salt

1

sheet of roasted nori, cut into quarters

If you don't like fishy tasting things, leave this out
Instructions
Place all of the ingredients into your food processor and pulse, just until everything is combined and there are no chunks of walnuts.

Do not over process or it will turn to walnut butter.

Store in a container in the fridge and use on EVERYTHING.
Notes
The addition of the nori just adds to the umami of it all. It's bomb-diggity with or without the nori.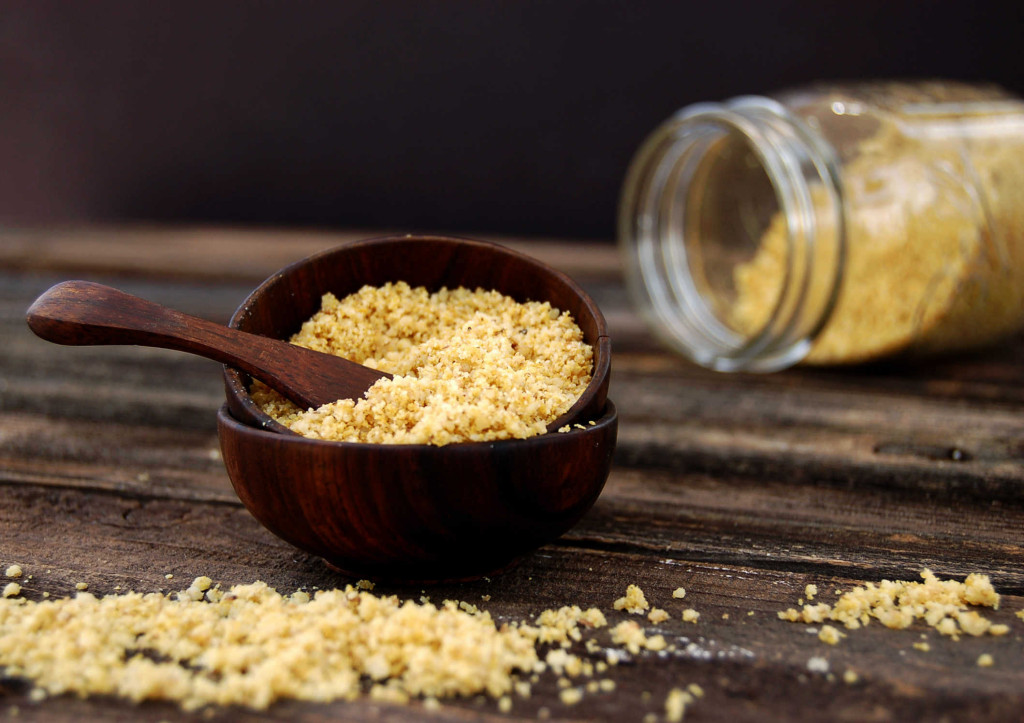 Wishing you a happy week. May it be filled with saying hell YES to yourself, even if it's in an awkward unsure voice. It will be a roar soon enough!
Fall in love with plant based cooking
Are you ready
to live a Plant Fueled Life?
Love the food that loves you back
Get instant access to thousands of plant based recipes and meal plans, no credit card or perfection required.