Making the transition to eating a Whole Food Plant Based diet doesn't happen overnight.
And that's okay – eating like this is a lifestyle, not a diet. There are twists and turns and bumps and obstacles along the way. There might also be creme brulee. Creme brulee that's full of cream, sugar and eggs.
The kind of creme brulee that gave Julia Child wet dreams at least once in her life. The kind of deliciousness that no Whole Food Plant Based concoction could ever live up to. You might get close with a vegan version, but a Whole Food Plant Based version? Not a fucking chance.
When you transition away from eating animal based foods and processed foods (including vegan processed foods) to eating whole plant foods, there are some things that with some creativity, can come close to resembling foods that you used to enjoy, pre eating like a rabbit.
Easy sleazy.
But- there are some things, like creme brulee, that are impossible to make successful Whole Food Plant Based versions of – by any stretch of the imagination.
Sorry – but flax eggs, dates and soy milk will never equal Julia Child orgasm creme brulee.
I'm not saying that the hippie flax brulee won't be edible. It might! I'm saying that if it looks like a dessert that came from The Allergy Friendly Cafe and it smells like a food co-op, chances are it will be more chalk-like and less moist dream in your mouth. The closest thing I've ever experienced to a whole food plant based orgasm dessert is our Chocolate Cake recipe. I don't know how we did it but we're wizards and wizards can to amazing and unthinkable things sometimes.
When you make the switch to eating this way, know that there are some things that can't be hacked with whole plant magic. Hard boiled eggs, butter, cream cheese, smoked salmon, coffee creamer, potato chips, delicious slice-able cheese that melts, bacon, and of course creme brulee – Julia style, to name a few.
You might be able to buy or make vegan versions of some of these things, but none of them can be recreated with whole plants in a way that will make you pee your pants with excitement and immediately update our private Facebook group.
And that's life. There will always be variables that we have no control over. But what we do have control over is how we respond to those variables.
So instead of being disappointed that there aren't Whole Food Plant Based alternatives for some of your old staples, work on getting to the point where you don't even think about your old staples.
Instead of being sad that there's no Whole Food Plant Based cream and sugar for your coffee, work on cutting out coffee altogether.
Instead of being pissy that tofu will never pass as a hard boiled egg, make food choices that facilitate a life in which eating an egg doesn't even cross your mind.
Instead of feeling depressed that crispy strips of eggplant will never be bacon, create a reality where bacon doesn't appeal to you anymore.
Instead of driving yourself crazy with creme brulee cravings, work on removing those cravings from your life altogether and get to a place where you would honestly prefer a small square of 80% dark chocolate.
Accepting that some foods can't be replicated and then eliminating the desire for those foods makes this whole transition a hellofalot easier.
It doesn't happen overnight, but the more you go without these foods, the less you want them. And when you do occasionally eat foods that you used to love that can't be recreated with whole plants, they'll taste strange and out of place.
I ate a piece of a baguette dipped in really expensive olive oil (something I used to LOVE) and I couldn't believe how strange and out of place it felt in my mouth. It wasn't at all appealing and I had no interest in having another bite.
When you reach this point, it's almost like you want to enjoy the foods that you used to enjoy, but you just don't. So you go back to eating broccoli and quinoa, you put on some fucking patchouli, and you start making a pair of rope sandals because, well…if the shoe fits.
This might be disappointing for a half a second, but the reality is, when you lose your taste for foods that aren't doing your beautiful bod any favors, it becomes really damn easy not to eat them. Plus, rope sandals are suprisingly sturdy and functional, so it's a win-win.
It comes down to this: the more whole plant foods you eat, the less of everything else you will want to eat.
And if you end up eating a piece of orgasm creme brulee along the way, fuck it. That's life. It's not the end of the world. Eating a Whole Food Plant Based diet is a long and beautiful relationship, not a one night stand.
If eating a shit load of whole plant foods is something that you want to do more of, I've got you.
The Clean Food Dirty Girl Plant Fueled Weekly Meal Plans are waiting for you. If you're not sure how to meal plan, and batch cooking feels like a constant experiment that fails more often than not, this is exactly what you need.
Here's what our recipe tester said about today's recipe:
"You totally nailed it with this recipe! The latest addition to the "Fuck Yeah" binder. Amazing!!!! Flavorful. Gorgeous. Crispy and soft. Comfort food! Yum"
Ingredients
1

head of cauliflower

2

tablespoons

tahini

40g

2

tablespoons

water

1

teaspoon

cumin seeds

1

teaspoon

turmeric powder

1

teaspoon

garam masala

1/2

teaspoon

salt

1/2

cup

red onion

50g, sliced

1/2

cup

cilantro

25g
Instructions
Preheat your oven to 400°F (205°C).

Cut the cauliflower into bite-sized pieces and place into a large mixing bowl.

Add the tahini and water to the cauliflower and mix well so that all the cauliflower is coated. Doing this with clean hands is most effective.

Add the cumin seeds, turmeric, garam masala, salt, onion and cilantro and mix well.

Spread the cauliflower in a single layer on a parchment covered baking sheet and bake for 20 minutes.

Take out of the oven, flip with a spatula and bake for an additional 15 minutes.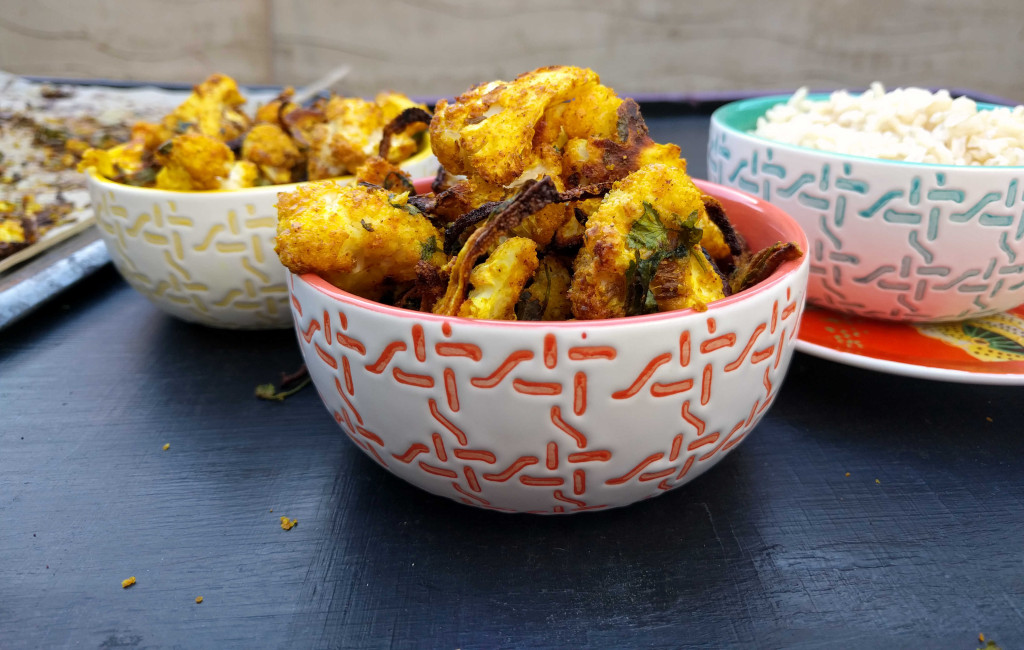 Have a happy week. May it be filled with making uncomfortable choices that will ultimately make your life more enriched and happy.
Fall in love with plant based cooking
Love the food that loves you back
Get instant access to thousands of plant based recipes and meal plans, no credit card or perfection required.