Fact: Last week I met a friend for tea and we ate a huge piece of cherry pie together. And then on my way home, I picked up Chinese food for dinner because all I wanted to do was go directly to my couch, eat Mongolian Tofu, and watch House of Cards. Being in my kitchen wasn't part of that scenario, so I skipped it.
The next morning I made a big green smoothie and I continued eating plant food.
I recommitted.
And this is just how it goes sometimes.
It's not the end of the world.
It doesn't mean that I'm a failure and every healthy meal that I've ever had and will ever have doesn't count.
It doesn't put back on the 12 pounds that I've lost since I quit drinking and started being diligent about eating a diet full of whole plant foods.
It doesn't make me any less credible in my job.
It doesn't make me a bad person.
It means that I ate a huge ass piece of delicious cherry pie followed by Chinese food last week. That's it.
Here's the thing. It's important that you don't get obsessed with perfection.
Perfection doesn't exist. And obsession isn't healthy – whether it's with donuts or kale.
If you're the kind of person who can't have sugar or you'll go into a sugar bender for the next three months, only looking up to wipe bright blue frosting from your face and brush away chocolate cake crumbs from your hair, then – yeah – maybe you should skip the pie.
Otherwise, keep in mind that eating a Whole Food Plant Based diet is a lifestyle. There is no finish line. This isn't a contest. No one is measuring your success or failure. You aren't being graded.
It's how you eat the majority of the time that counts most.
That said, do yourself a solid by being honest about the word majority.
If you drink a green smoothie every morning and the rest of your day is laced with white flour and cheese, than the majority of your food is not Whole Food Plant Based.
If you eat mainly vegan food, but your meals are lacking vegetables and fruit, the majority of your food is not Whole Food Plant Based.
Be honest with your assessment and then do what you have to do to tweak it.
The bottom line is this, don't make your life miserable by trying to be perfect. Do the best you can, don't take it too seriously, and when you have to recommit, recommit and move on.
And if you ever wonder how you're doing on this plant eating journey, check in with yourself and see how you feel physically, mentally and emotionally. Let that determine your progress and let the rest go.
If you're new to this way of eating or if it's time for you to recommit, I've compiled a cheat sheet to help you determine what is considered Whole Food Plant Based and what is not.
Here are the foods that make up the majority of Whole Food Plant Based eating. Eat mostly these foods:
All veggies, including sea veggies
All fruit
All beans and legumes
All whole grains
All nuts and seeds
Here are the foods that are considered minimally processed and are a-okay when eating a Whole Food Plant Based diet. Use these ingredients to round out your meals or add them to recipes:
Whole wheat or sprouted grain tortillas
Whole wheat or sprouted grain bread, bagels and English muffins
Whole wheat, sprouted grain, quinoa, soba and brown rice pasta
Whole wheat or whole grain flours like buckwheat, spelt, barley, chickpea, brown rice, etc.
Vital wheat gluten (this should be used sparingly because it is the most processed on this list)
All herbs and spices
Non-dairy milk with no additives or sweeteners
Tofu
Tempeh
Sauerkraut and pickles without vinegar
Shoyu, tamari, Braggs amino acids and coconut aminos
Vinegars like rice, ume plum, red wine, apple cider, balsamic, etc.
Nut butters – sugar and salt free
Nutritional yeast
Low fat coconut milk (the kind in the can)
Canned tomato products
Olives and capers (packed in water, not oil)
Hot sauce (without oil, sweeteners or additives)
Dijon Mustard
Miso (usually white)
100% pure maple syrup and other pure sweeteners like brown rice syrup and sorghum syrup (use sparingly)
Dried fruit (use sparingly)
Vanilla extract
Cacao powder and cacao nibs
Herbal teas
Coconut water
Here are the foods to avoid when eating a Whole Food Plant Based diet:
All meat
All poultry
All seafood
All dairy products
Eggs
All oils (even coconut and olive oil)
All processed foods
Faux meats and faux dairy products that contain oil, refined sugar, or processed ingredients
All soda
All processed sugar
Anything containing white flour
Bottled salad dressings that contain oil and/or sugar
Processed breakfast cereal
Cakes, pies, pastries, donuts and all bakery item made from processed ingredients like white flour and sugar.
Alternatively, if you want to know exactly how to eat plant based and don't know where to start, you're in luck. We've done all the hard work and all you have to do is follow along. Check out our plant fueled meal plans here.
Okay my dear, go do what you gotta do to commit or recommit. You can start by making today's recipe.
Ingredients
Sauce
3

tablespoons

tahini

1

tablespoon

soy sauce

1

tablespoon

rice vinegar

2

tablespoons

water

1

teaspoon

paprika

3

garlic cloves

minced

10

turns cracked black pepper
Instructions
Preheat the oven to 400°F (205°C).

Make the sauce by adding all of the sauce ingredients into a small mixing bowl and whisking until all of the ingredients are mixed together. Set aside for now.

Cut the squash in half. Couple of tricks here. Do not try to cut through the stem, cut on one side of it. Use a large sharp knife and be careful because Kabocha is super thick and tough to cut. When you have the squash open, scoop out the seeds.

Place both halves on the cutting board with the inside of the squash facing down. Cut off each of the ends, just enough to cut off the stem and the very bottom of the squash. Continue to cut half moons slices, about 1/2 inch thick. After you cut each half into 1/2 inch half moons, cut those in half so they aren't as long.

Place the squash in a mixing bowl and pour the sauce over it. Mix until all of the squash is covered with sauce.

Place the squash on a parchment covered baking sheet and bake for 25-30 minutes, until the squash is soft to your liking. The skin should be soft enough to eat.
Notes
Serves 3 - 6 people, depending on the size of your squash.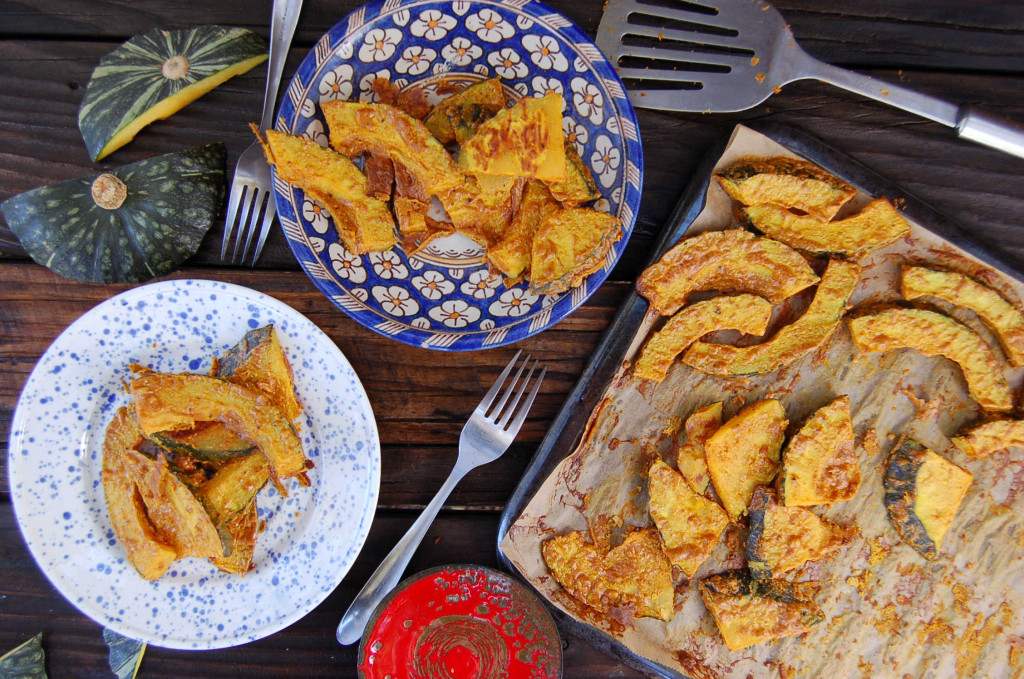 I hope that you have a happy week. May it be filled with compassionately allowing yourself to be human.
Fall in love with plant based cooking
Love the food that loves you back
Get instant access to thousands of plant based recipes and meal plans, no credit card or perfection required.