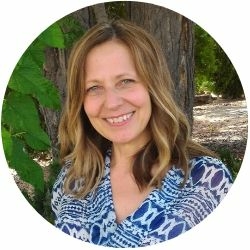 Meal Plan & Recipe Developer
Jennifer was the youngest of 10 children and grew up in Detroit where she learned at an early age that laughter is the best medicine, to be grateful for hand-me-downs, and the joy of being creative in the kitchen.
Jennifer worked as a paralegal and owned and operated a restaurant with her husband before the Universe connected her with CFDG and she landed her dream job as a meal plan/recipe developer.
Jennifer enjoys laughing (and making people laugh), spending time with family and friends, music, dancing, solitude, and being in nature. She lives in Colorado with her husband and two sons.
Oh, that's a hard one. Let's go with African Peanut Stew (because it's one of the first recipes I wrote for CFDG), Curry Laksa (because it was challenging and because it was part of a team-effort Wizard Plan that holds a special place in my heart), and Dill Pickle Potato Soup (because it took people out of their comfort zones to try something they may never have otherwise tried and coined the phrase #TrustTeamDirty).
I love being in the company of such magnificent and talented women! The feeling of community, sense of trust, dedication to mission and the pure joy of doing what I do and knowing it makes a positive difference in people's lives is unique and unparalleled.
Improved physical and mental health and well being and also makes me feel good to know I'm playing a small part in reducing harm to our planet and it's inhabitants.