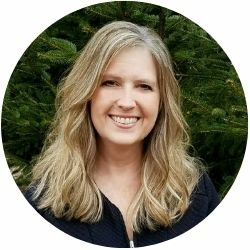 Meal Plan & Recipe Developer
Tamie was raised in a family that grew their own food and frequently traveled to organic food festivals, so eating plants has always been part of her life. With 30+ years as a graphic designer and a lifelong passion for cooking and creating recipes, being a meal plan / recipe developer / graphic designer and food photographer for CFDG is a dream come true for her creative soul.
Tamie loves reading, 80s music, and having her toes on a beach–preferably all at the same time! She also has a cookbook obsession. She owns about 300 and worked as a graphic designer/food tester on 4 of them. Tamie lives in Michigan with her husband, three children, and two cats.
I enjoy silence while cooking, actually. I love jamming to 80s music but not while I'm cooking. I like to be able to completely focus on what I'm creating.
I couldn't possibly pick a favorite, but in the Spears house, the Cheesy Pasta, Tofu Sausage and Roasted Butternut Squash Casserole is a regular, along with the Barbecue Smack-a-roni & Cheese and any of the cheesy soups such as Cowboy Potato Soup, One Pot Cheesy Mushroom Lasagna Soup and Classic Cheesy Broccoli.
I like that I get to do what I love, with people who are above and beyond incredible. I couldn't be more proud to be part of this team of amazing women!
I like that I'm reliable. Always have been, always will be. If I say I'm going to do something, I will. I have a reputation with my graphic design clients for not missing deadlines.
Eating plants has enriched my life in many ways, but creating plant-based recipes and knowing they are helping other people love plants as much as I do is at the top of the list!