As revealed last week, when you start eating more plant foods and less animal based foods and processed foods, you fart like you're in an actual farting competition.
And those exist – I checked. The first prize is ten thousand dollars and they rank you on 5 categories:
– Control, duration, multiplicity of tone, artistic presentation, and stench.
Oh, and a body search for "hidden devices" is standard before the competition starts. So yeah – if you recently switched to eating a plant based diet, your odds of winning this competition are high.
Another thing that can happen when you're new to shoveling plant fiber into your mouth hole like you're an eager little bunny is bloating. And the only time that bloating is a good thing is if you're a hot air balloon, but I'm pretty sure you won't be offering rides in your "basket" anytime soon. Although, if you're in a rut in the bedroom department, this might be worth exploring. I'll leave that up to you.
Bloating and farting is one of the most common issues that people ask about in our private Facebook group (THE best group of people anywhere – online or off, hands down. Full stop. Period. Done. The end.), so I knew this was a topic worthy of two Fuckeries.
I gave you my first ten tips and tricks to ease tum tum troubles last week, and today I'm giving you ten more.
Here's what to do (in no particular order) to help with bloaty, gassy, farty situations that can temporarily come up when you're new to eating like a hippie:
1. Skip raw veggies and lightly steam or simmer them instead.
Cooking veggies makes them easier for the body to break down. And this will help you to avoid a plant baby bump.
2. Avoid carbonated drinks and gum.
They both causes air in the tum, and we all know that air in the tum leads to air out the bum.
3. Fresh pineapple and papaya contain powerful digestive enzymes, so nosh on these guys whenever you can.
The dried version of these fruits don't work the same as fresh because the dried versions are usually heat treated, so the beneficial enzymes in these foods are destroyed.
4. Add fermented foods into your diet on a regular basis.
Fermented foods like sauerkraut, miso and tempeh are packed full of probiotics. Probiotics are beneficial microbes that help bring beautiful balance to your gut, and therefore to the rest of your bod. But like I went over last week, prebiotics are equally important because prebiotics feed probiotics.
You can ingest the best small batch, artisanal, organic, hand pressed, fairy dusted, $87 sauerkraut that San Francisco's Ferry Plaza Farmers' Market has to offer, but if there are no prebiotics in your gut for those overly priced probiotics to feed on, they won't multiply and grow – they'll die out and pass right through the poop shoot.
The moral of the story is that you need both probiotics (like in fermented foods) and prebiotics (only found in plant fiber) to create a Martha Stewart worthy gut garden. So eat fermented foods, eat lots of plants, pay your taxes, and you'll be golden.
5. Ginger is super soothing and healing to the digestive system.
You can make ginger tea by cutting up some ginger root and gently simmering it in water for about 30 minutes. You can also add raw ginger to your green smoothies for a quick ginger kick. No need to peel the ginger for the tea or for your smoothies.
6. Herbal teas like peppermint, fennel, and chamomile are all great for digestion.
Sip on them 20 minutes before, or an hour after you eat. If you go to your local herb store and ask for a nice digestive herb blend, they'll hook you up. They might also offer you some patchouli flavored armpit hair oil. This is entirely up to you – what happens in and around your armpits is none of my business.
7. Fats are particularly hard to digest. Avoid oil and all other processed fats.
Nuts, seeds and nut butters are easier to digest than oils and we need healthy fats in our daily diet, but if you're having serious tummy troubles, avoid all processed fats and stick to a tablespoon of nuts, seeds or nut butter and a quarter of an avocado a day.
8. People who have a true gluten sensitivity have a hard time digesting gluten.
If you bloat up or start farting away after you eat bread, tortillas, bagels, etc., try going without gluten for a week and see if it helps. And instead of going out and buying gluten free bread, tortillas, etc., stick to whole plant foods. Gluten free bread is usually even more processed than whole wheat bread.
9. Do some form of exercise on a daily basis.
You can walk, jog, bike, swim, do yoga – anything that gets your body moving will help the process of digestion. Just don't do it directly after you eat or your tum will feel ick.
10. Soak your beans overnight in water.
This will help break down and dissolve some of the gas-producing sugars in beans. You can leave your beans on the counter overnight to soak – no need to put them in the fridge. Be sure to add enough water so the beans are covered by a couple of inches because the beans will expand and absorb water.
11. Be patient with yourself and know that your body needs time to adjust to this way of eating.
The bloat and excessive farting won't last forever and the health benefits of eating a plant based diet outweigh some gas and bloating in the beginning. It happens to all of us. And if we ever hold a CFDG retreat, there's a 76% chance that a farting competition will be on the schedule.
If you try all of these tips and the ones in last week's post on what to do about bloating and farting and it's been over a month without things settling down in your tummy, it's possible that you have bigger gastrointestinal issues and it's more than just your body adjusting to the increased fiber.
There's a huge correlation between the use of antibiotics and GI conditions. This is because antibiotics kill off beneficial bacteria and after a certain point, the body has a hard time maintaining a good balance of bacteria in the gut.
So if you've taken a lot of antibiotics in your life – even when you were a kid, there's a good chance that your body has an extra hard time maintaining gut balance, and gastrointestinal issues are the result.
If this is the case, it's even more important that you stick to plant foods and load up on plant fiber every chance you get. Animal based foods and processed foods work against creating that happy, magical microbial balance within the tum.
If you need extra help in this department, my weekly Plant Fueled Meal Plans tell you exactly what and how to cook Whole Food Plant Based meals, packed full of prebiotics. All you have to do is follow along, and you'll be set each and every week. Jump over here to join the party and then come back to the recipe at hand.
Okay tiger – whether you're new to plant based eating or not, today's recipe is packed with plant goodness and it's damn tasty to boot.
Ingredients
Mung Beans
1/2

cup

dried whole mung beans

110g

3

cups

water

710ml

1/2

teaspoon

turmeric powder
Ingredients for Mung Beans cooked in an Instant Pot:
1

cup

cooked mung beans

190g

1

garlic clove

1/2

cup

loosely packed cilantro

6g

1

tablespoon

lime juice

1/4

cup

tahini

55g

1/2

cup

cooking liquid from mung beans

1/2

teaspoon

salt
Ingredients for Mung Beans cooked on Stove Top:
1

cup

cooked mung beans

265g

1

garlic clove

1/2

cup

loosely packed cilantro

6g

1

tablespoon

lime juice

1/4

cup

tahini

55g

1/4

teaspoon

salt
Instructions
The first thing you'll need to do is cook your mung beans. You can cook them on the stove top in a regular pot, or in your Instant Pot or pressure cooker.

This will make more mung beans than you will need for the hummus. This is great news because adding mung beans to salads, wraps, or bowls throughout the week is boss.
Cook the Mung Beans (Instant Pot directions)
Rinse and drain the mung beans and add all of the ingredients to your IP and cook for 15 minutes, using the manual mode.

Use the quick release method and pour the mung beans into a strainer and place a bowl under the strainer to catch the water. Reserve the water because you will use it for making your hummus.
Cook the Mung Beans (Stove Top Directions)
Rinse and drain the mung beans and add all of the ingredients to a medium-sized pot and bring to a boil.

Lower the heat slightly and place a lid on the pot at an angle.

Simmer for 25-30 minutes, until the mung beans are soft.
Make the Hummus
Place everything into your food processor and process until creamy and smooth, about 3 minutes.

Add a bit more salt if necessary.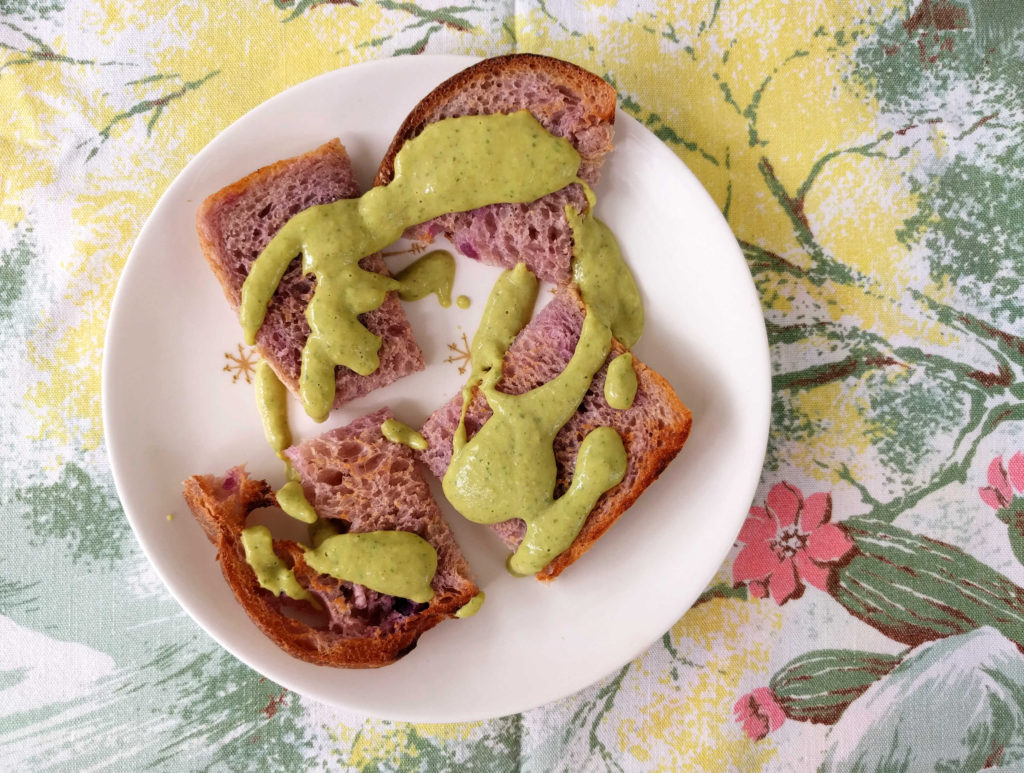 Wishing you a happy week. May it be filled with patience and acceptance of necessary bodily functions.
Fall in love with plant based cooking
Love the food that loves you back
Get instant access to thousands of plant based recipes and meal plans, no credit card or perfection required.