Before I even start with today's fuckery, I need to tell you one thing:
If you're not yet part of our private Facebook group, you 100% should join. It's an extension of Clean Food Dirty Girl in the best possible way. Get on it if you haven't yet.
Okay – there's no possible way for me to sexy this up.
Today's post is all about the gastrointestinal tract, or in simple language, the gut.
Bow Chicka Wow Wow. Nope, not even sexy porn sounds can make it hot.
Here's the deal. Every single thing that we put in our pie hole is processed through the gut and either absorbed into the body or eliminated via the poop shoot. (That sentence in itself is the least sexy thing I've ever written.)
Even though we're mostly oblivious to it, there's a ton of magical shit that happens within our gut. (wink, wink)
Let's explore.
The gut is a rock star of a system and it has the responsibility of digesting everything that we eat and drink, and then pulling the nutrients, vitamins, and minerals out of it so they can be absorbed into the bloodstream. You can think of it as your very own processing center.
About 70 percent of our immune system resides in the gut where it is constantly identifying invaders like toxins, viruses and allergens, and moving them through the digestive system so they can be excreted and do us no harm. Yup – the gut has its own little army that defends us every single day. If you're visualizing a minuscule set of green plastic army men floating around in your intestines right now, I'm right there with you.
And here's something that's not creepy at all. We all have a second brain and that second brain lives in our gut. The central nervous system consists of the brain and the spinal cord and it controls almost all of our voluntary and involuntary activities. From making soup to blinking, it's all thanks to our central nervous system.
The enteric nervous system (or gut brain) is home to 100 million neurons within the intestinal wall. These neurons transmit important information throughout the body. They also control digestion and send status updates to the brain, letting it know how things are going down south, in our tummy.
While the enteric nervous system magically sorts out digestion on its own, signals from the brain, like stress and anxiety, play a big role in how well the whole process works.
The brain also receives chemical messages from the gut which can affect mood and emotions. So in a very real sense, the better your gut health, the better your mental health, and vice versa.
First little green men and now brains. Who knew our gut was a Halloween party?
Okay – next up. I can't talk about the gut without talking about bacteria. It just keeps getting better.
The gut is home to literally trillions of bacteria. We have 10 times more bacteria in our gut than we have cells in our body and this bacteria is crucial for our overall health.
When our gut is working optimally, we have about 85% good bacteria and 15% bad bacteria. When this balance is reached, we rarely get sick, we have lots of energy on a consistent basis, we have smooth digestion, we're clear and focused, we feel strong, we maintain a healthy weight, we have awesome poops (that don't smell all that bad), and we feel overall really good.
When you feel awesome, it's a sign that the bacteria in your system is balanced and the good bacteria is doing their job. They are assisting with digestion, producing disease-fighting antibodies, crowding out bad bacteria and producing important hormones, vitamins and nutrients. All is well in bacteria land.
But just like avoiding mental breakdowns, it's all about balance.
When the balance of good to bad bacteria gets thrown off, problems start to arise. When bad bacteria start to take over, this fucks up the system and leads to inflammation and infection, which then leads to things like constipation, allergies, candida, digestive issues, weight gain, frequent colds and flus, chronic headaches, allergies, arthritis, depression, autoimmune diseases and more.
So the health of your gut is a big deal and the balance of your gut bacteria is crucial for a healthy gut. From digestion to immune function, to your mental state, to your overall health – it's definitely something that you want to keep in tip top shape.
You didn't wake up this morning thinking about how you can help the bacteria living in your gut succeed at life. I get it – you probably woke up this morning thinking about waffles. It's okay, I'm here to give you some bacteria/gut best practices (not as tasty as waffles).
Here are nine things to help keep the bacteria in your gut healthy and balanced so that your gut can thrive (as a side note, I call dibs on the name "thriving gut" for my new dance troupe).
1: Eat a whole food plant based diet.
It's best to prevent bacteria imbalances from happening in the first place and eating a diet of whole plant foods is the very best way to keep gut bacteria balanced and happy. Animal based foods and processed foods, including sugar, feed bad bacteria in the gut, leading to an overpopulation, and in turn, wreaking havoc on the system.
If you don't already eat a WFPB diet and your bacteria is out of whack, transitioning to this way of eating will even out your bacteria naturally and your gut health will be on the mend. This is why I don't talk about balancing out the gut very often. It's a natural side effect of eating like a rabbit, which I talk about all the time.
2: Eat probiotic-rich whole plant foods.
This step is all about getting freaky deaky with fermentation.
Fermentation is awesome for gut health because fermented foods contain large amounts of good bacteria (probiotics). Sauerkraut, tempeh, miso and rejuvelac are all awesome probiotic-rich foods.
Make sure to buy high quality versions of these foods without vinegar because vinegar kills off the good bacteria. Pasteurization also kills off good bacteria, so that pasteurized dairy yogurt you've been eating isn't helping your bacteria situation.
If you want to get crafty and try your hand at fermenting, Wild Fermentation by Sandor Katz is a must read.
3: Eat prebiotic whole plant foods (different from probiotic)
Probiotics are good bacteria, prebiotics feed good bacteria and help them grow, populate, multiply and thrive.
Just like certain foods feed bad bacteria and help them thrive (sugar, processed foods and animal based foods), certain foods feed good bacteria and help them thrive as well. Prebiotics are these foods. Prebiotics are special types of fiber that act as fuel for good bacteria – so you want to make sure to include lots of these foods in the diet so they can get to work, populating the good guys.
Onions, leeks, garlic, dandelion greens, Jerusalem artichokes, whole grains, asparagus and bananas are some of the best prebiotic foods to add to your diet.
4: Don't eat late at night.
In order for your gut to clean up and clear out bacteria and waste, it needs a rest from digestion. If you can give yourself at least 13 hours every night without eating, this gives the digestive system a nice break so it can work on cleaning house.
Aim to eat dinner by 6pm each night and then the next morning eat breakfast only when you are hungry – whatever time that might be (but after 7am to make sure your digestive system is at rest for at least 13 hours).
5: Stay hydrated.
Aim to drink half of your body weight in ounces of water each day. If you weigh 140 pounds, you'd need to drink 70 ounces of water a day.
Your gut needs water to keep bacteria and waste moving through your digestive system smoothly, which will help to prevent constipation and bloating. When you're dehydrated, these issues can throw off the balance of bacteria in your gut and lead to inflammation.
6: Chillax and reduce your stress levels.
When you experience chronic stress, your brain goes into fight or flight mode, causing your digestion to slow down. When this happens, the muscles that push along waste and bacteria freeze up and the secretions for digestion decrease.
This stress response leads to a poorly functioning gut. Movement, meditation, and being in nature help reduce stress levels.
7: Stay away from antibiotics and medications as much as possible.
These guys wipe out good bacteria faster than you can say "wipeout". When good bacteria gets wiped out, bad bacteria have the perfect opportunity to rise up and take over. Little fuckers.
If you're on medication, talk to your doctor about slowly getting off of them.
8: Join our weekly Plant Fueled Meal Plans.
I give you everything you need each and every week to eat like a plant based boss. Recipes, shopping list, nightly meal instructions, and even a weekly email to remind you that a new meal plan is waiting for you. Sign up here, download a free week of meal plans and then come back for today's recipe.
I don't recommend taking probiotics in pill form because the majority of probiotics in this form are dead by the time they reach the grocery store and are a total waste of money. Once again, it's about food and lifestyle and not pills.
If you want to learn more gut bacteria, Robynne Chutkan's book, The Microbiome Solution is an excellent read.
Ingredients
1

cup

onion

105g, sliced

1

cup

mushrooms

80g, sliced

1

cup

celery

145g, diced

2

cups

cabbage

160g, sliced

1/4

teaspoon

sea salt

few turns cracked black pepper
Instructions
Heat a skillet for a minute or so until the pan is hot.

Add the onion and cook for a couple of minutes. When the onions start to stick to the pan and turn brownish, add 2 tablespoons of water, stir, and keep cooking. Add another 2 tablespoons of water when they start to stick and brown again.

Cook the onions for about 6 or 7 minutes, adding water and stirring as needed.

Add the mushrooms, celery, cabbage, sea salt and black pepper and stir.

Cook for an additional 4 or 5 minutes, stirring occasionally until the the veggies are soft to your liking.

Eat as is, serve on the side of your meal, or add to a wrap or taco. And of course drizzle it with

Tahini Crack

dressing for the win.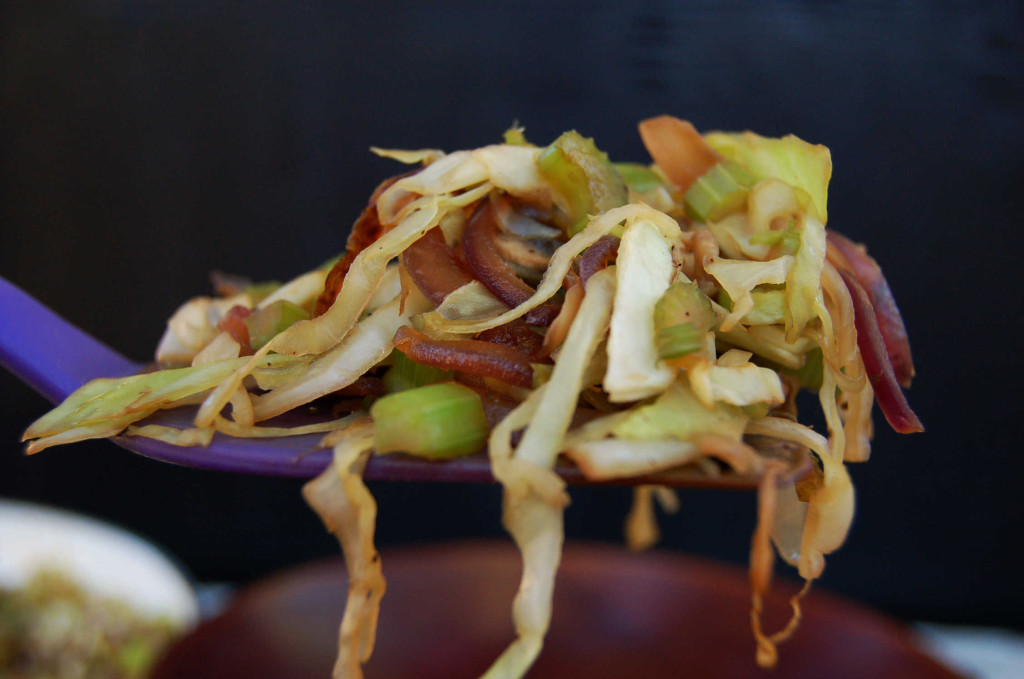 Have a happy week. May it be filled with lots of good bacteria.
easy plant based recipes, easy whole food plant based recipes, gluten free vegan recipes
Fall in love with plant based cooking
Are you ready
to live a Plant Fueled Life?
Love the food that loves you back
Get instant access to thousands of plant based recipes and meal plans, no credit card or perfection required.