Has anyone else ever wondered what it would be like to lead a completely different life than the one you have?
For example:
There is this little tiny part of me that wants to be a hippie.
Maybe that's why I talk so much smack about hippies.
It's true, they're often the stars of my anecdotes, but I feel totally justified in that because I grew up living in a tent made of canvas. <—True story.
Flash forward 30 years and my life is extremely conventional and most times really boring.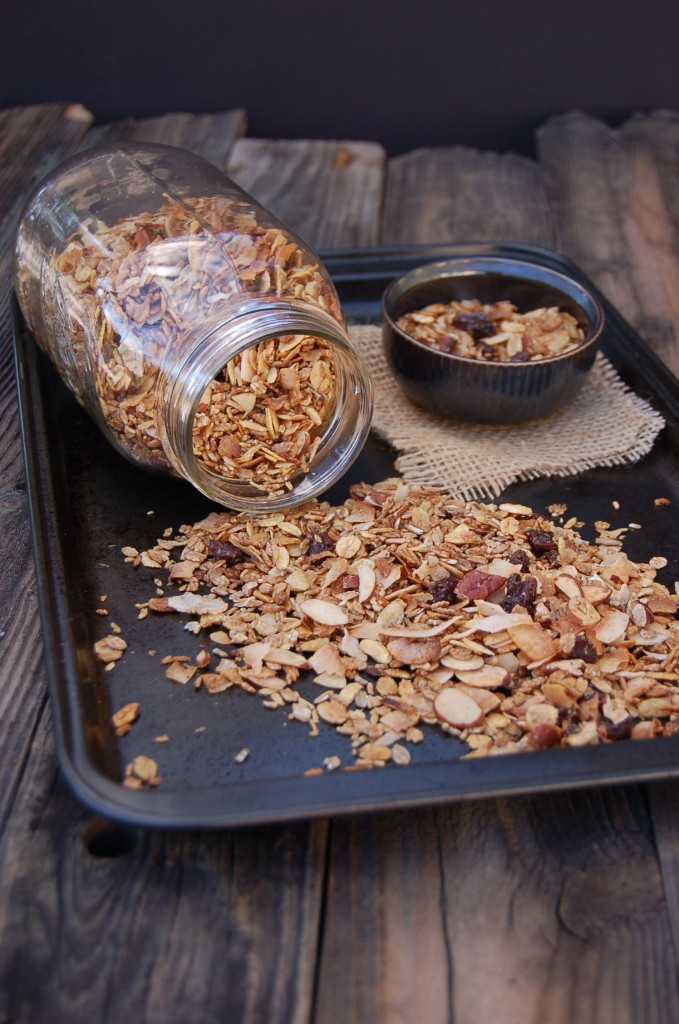 The only hippie thing left in me is the way I eat (hence the fine granola recipe below) and the fact that I don't have a TV, but that doesn't even count because I stream Netflix on my iPad (Grey's Anatomy is my current obsession).
However, there is this slight fascination that I have with living by a river in a VW bus, collecting my drinking water from fresh springs, growing out my armpit hair and traveling around the country making the destinations wherever the next food co-op is.
In my fantasy, I  have a slight musty smell (it's sexy musty, not makes you want to vomit musty) and my hair always has a flower in it and some braids. Naked little kids are running around and there is the most adorable baby nursing (they are not my kids, although I've always thought that nursing would be really cool so maybe it is my baby. Okay, it's my baby and her name is Daffodil).
I wear homemade skirts and tops. I play the guitar because I have lots of spare time to do that, I collect rocks and feathers and I put them on the dash of my VW. There is always a sage stick burning and a campfire every night with a flask of whiskey being passed around.
This fantasy of mine is a happy one and I do think about it from time to time. Dropping out of society, doing something totally different, going against the grain (or would it be with the flow?) and just livin. L-I-V-I-N! 
Whoever got that one up needs to email me because I want to be your friend  ([email protected]). And if you didn't, see the bottom of this post for some classic footage.
I'm not having a life crisis or anything like that, I just think there's something really freeing about the scenario that I painted (oh, I'm also a really good painter in my fantasy).
Here's the thing though. I know that I couldn't actually do it.
I might last three days and then I would be ready for the camping trip fun to be over.
I hate being cold, I love my house, I love a hot shower before bed, I love my iPad, and there is little else that gives me as much pleasure as a mani / pedi combo. Boring works for me.
So, instead of selling everything I own, buying 1974 VW bus and teaching myself how to sew, I'll just continue with the hippie anecdotes and the whole food plant based recipes.
What is your alter ego fantasy? I'm pretty sure we all have them.
Tell me in the comments below and then go make this recipe.
How To Make Your Own Coconut Vanilla Granola
How To Make Your Own Coconut Vanilla Granola
So easy and so so yummy
Ingredients
2

cups

kamut flakes

225g

2

cups

rye flakes

245g

2

cups

dried coconut

the bigger flakes, not the shredded, 100g

1/2

cup

chopped pecans

65g

1/2

cup

almond slices

60g

1

teaspoon

cinnamon

4g

1

teaspoon

nutmeg

4g

1/8

teaspoon

sea salt

1/4

cup

coconut oil

35g

1/4

cup

maple syrup

70g

2

teaspoons

vanilla

30ml

1/2

cup

raisins

80g
Instructions
Preheat oven to 300° (148°C).

Place kamut flakes, rye flakes, coconut, pecans, almond slices, cinnamon and nutmeg in a large bowl and mix to combine.

In a smaller bowl, add the maple syrup and vanilla. Set aside.

In a small pan, heat the coconut oil until it melts and add it to the bowl along with the maple syrup and the vanilla and whisk to combine.

Drizzle the maple syrup mixture over the flake, nut and coconut mixture and mix until evenly combined.

Place on a parchment paper lined cookie sheet (or two) and bake for 15 minutes.

Take out of the oven, flip the granola and bake for an additional 15 minutes.

Take out of the oven and place in a large bowl add the raisins, stir and allow to cool.
)
xo
Molly
Are you grooving to my jam? Sign up here for my Saturday emails and free Whole Food Plant-Based recipe ebook. Pucker up!