Among HUGE handfuls of other reasons to drink green juice, it is extremely alkalizing to your body.
When we consume foods that are acidic (meat, dairy, soda, alcohol, coffee and processed food, to name a few) we create an imbalance in our bodies.
When our body is too acidic, it creates the perfect environment for viruses and bacteria to thrive in. As viruses and bacteria continue to flourish inside our body, we are thanked with  lack of energy, frequent illness and pains.
The good news is that we can choose to eat a diet full of alkaline food to create the balance in our system to keep us healthy, energized and full of life. Green veggies, lemons and limes are some of the most alkalizing foods out there and should be consumed everyday.
By juicing our produce, we get a direct shot of vitamins and minerals straight to our blood stream.
Our bodies get alkaline, we get energized, our skin glows – the rest is history.
Whats' the deal with flax seeds and chia seeds you ask?
Fiber, Omega 3 fatty acid, lignans, fiber, antioxidants and protein, leading to:
Reduction in bad  cholesterol, less constipation, healthy skin and hair, prevention of certain types of cancers, boost in energy and immune system to name a few reasons to incorporate these little wonder seeds into your diet!
What we have here my friends is pure liquid health.
Drink up my lovelies, your body will thank you!
Green Juice with a Kick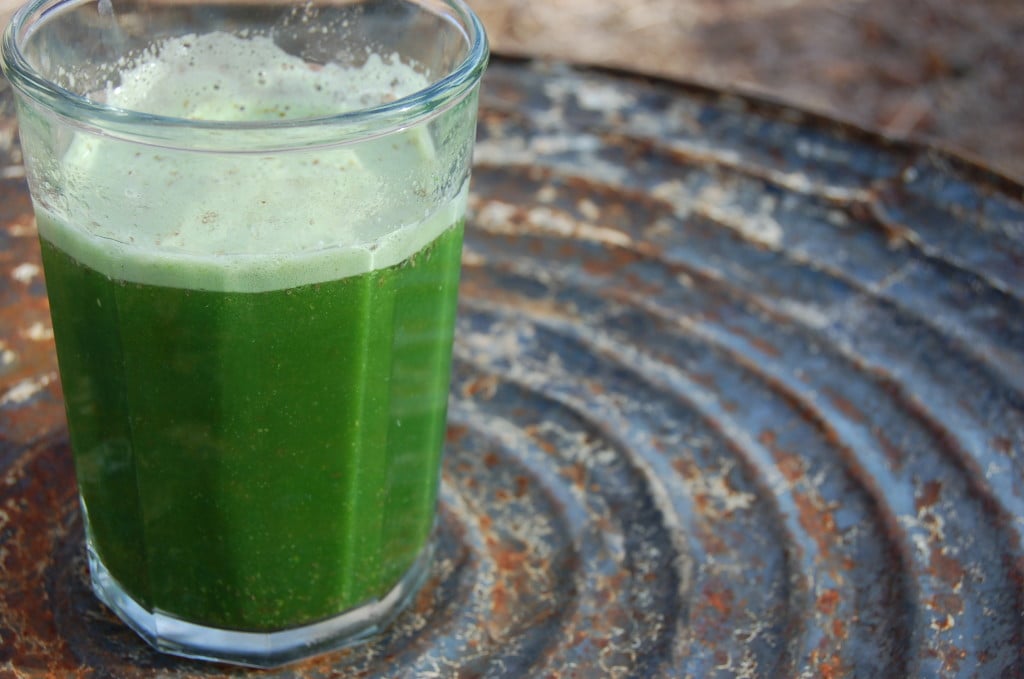 Makes 24 oz.
3 large collard leaves
3 large kale leaves
1 lime
1 apple
2 cucumbers
Place all ingredients in to your juicer in the order they are listed.
Pour into a glass and add: 1 tablespoon chia seeds and 1 tablespoon ground flax seeds. 
Stir, drink up and do a green happy dance!
Leave a comment and let us know your fave green juice recipe!
Are you grooving to my jam? Sign up here for my Saturday emails and free Plant-Based recipe ebook. Pucker up!