There's a lot of bullshit on the internet.
Especially when it comes to food and what's best to put in the ol' soul house (AKA your beautiful bod). It's confusing, it's conflicting and it can be overwhelming to the point of dropping your whole food plant based healthy eating efforts for a bottle of wine and a pound of cheese.
All you wanted was a recipe that makes tofu taste like something besides air and now 45 minutes into the Google hole and you're not even sure if you should be eating tofu because it causes cancer? Or maybe you should eat lots of tofu because it protects against cancer?
Every blog and website says something different and all you wanted was lunch. So you turn off your computer, you put your tofu in the way back of the fridge and you re-think this whole plant based thing because for all the awesome things you've heard about this way of eating, you're not sure you have the time or the energy to wade through all the information and extract the trustworthy knowledge from the link bait bullshit.
I get it – it's tiring. But I have good news and his name is Dr. Michael Greger.
Dr. Greger has dedicated a large portion of his career to combing through scientific human nutrition studies and reporting the facts in short, easy to understand videos that can be found on his non-profit website, nutritionfacts.org
He isn't an advocate for any particular diet. He lets science do the talking about nutrition and what we should eat if we want long lasting health. And the science leads to eating a shit load of whole plant foods and eliminating the rest. I have been following Dr. Greger's work for a long time and he's my go to dude when I have nutrition questions.
Dr Greger recently wrote the New York Times Best Selling book How Not to Die where he examines the top causes of premature death and explains how nutrition, food and lifestyle interventions can be a shit ton more effective than prescription drugs and surgeries. If you haven't read this book yet, I recommend getting a copy and diving in. It will blow your mind just how much control you have over your health and longevity by simply eating the right foods.
His book is based on what the science says about nutrition, not organizations with special interests fueling their message. Wading through bullshit isn't required – he does that for us.
Dr. Greger took some time out of his busy schedule to chat with me this week. Before our chat, I asked over in the Clean Food Dirty Girl private Facebook group if anyone had questions for him, and SO many people had questions. I only had 30 minutes with the guy, so if you had a question that didn't get asked, know that I had every intention to ask.
Here is my video interview on How Not To Die with Dr. Michael Greger. Enjoy!
---
Our whole food plant based meal plans are in full force and people are loving them. All of the food in these plans are the foods that Dr. Greger discusses in his videos and in his book – veggies, legumes, whole grains, fruit, nuts, and seeds.
Here's what some of our current meal plan customers are saying.
---
---
Today's whole food plant based recipe will very likely be one of your new staples – it's definitely one of mine.
Ingredients
3

cups

canned chickpeas (garbanzo beans), drained and rinsed

(450 g)

1

cup

celery, chopped

(100 g)

¼

cup

red onion, diced

(40 g)

2

tablespoons

parsley, chopped

(3 g / any variety)

2

tablespoons

green onion, finely chopped

(15 g)

2

teaspoons

lemon juice

1

teaspoon

dulse flakes or powder

½

teaspoon

salt
Instructions
Drain and rinse the chickpeas and place them into a food processor. Pulse several times, just until the beans are mashed up. Do not over process or you'll have hummus.

Transfer the beans to a large mixing bowl and add the celery, onion, parsley, green onion, lemon juice, dulse flakes, and salt.

Stir everything to mix and taste for seasoning.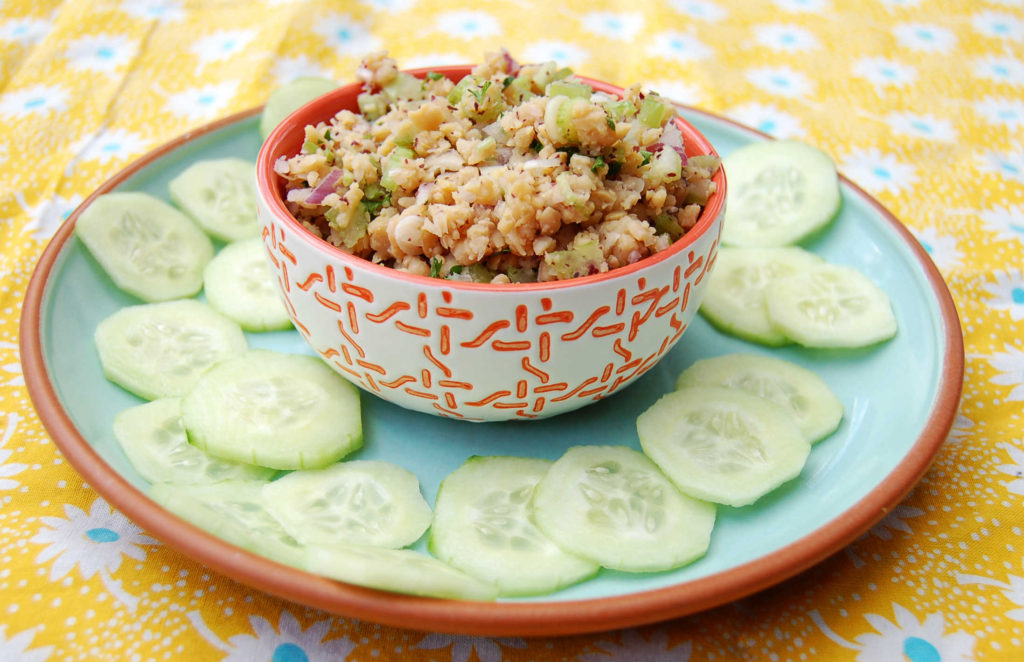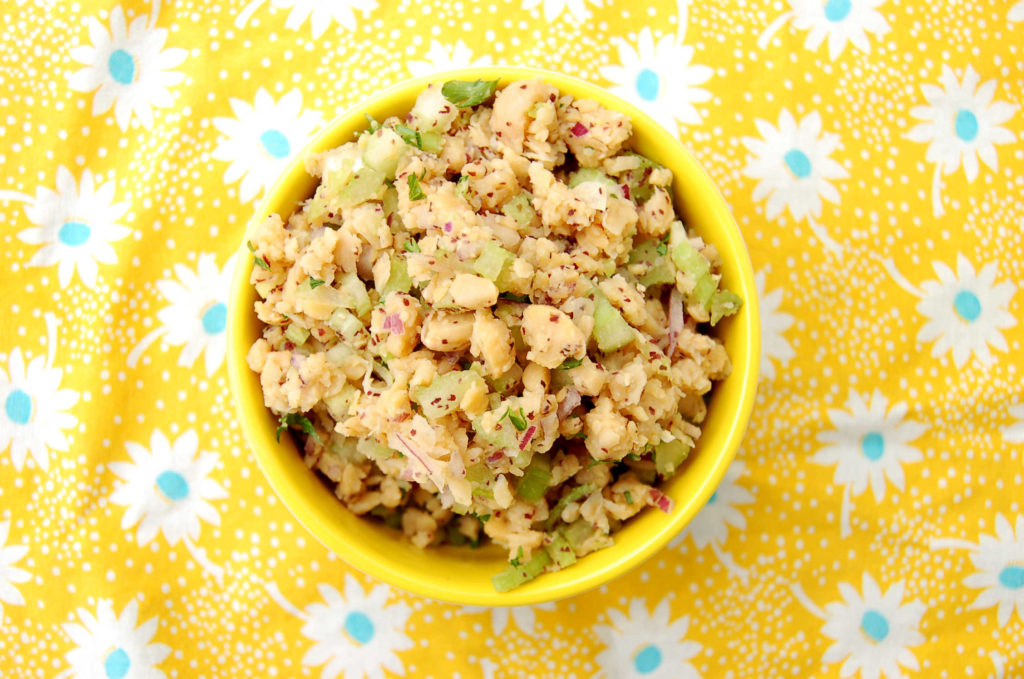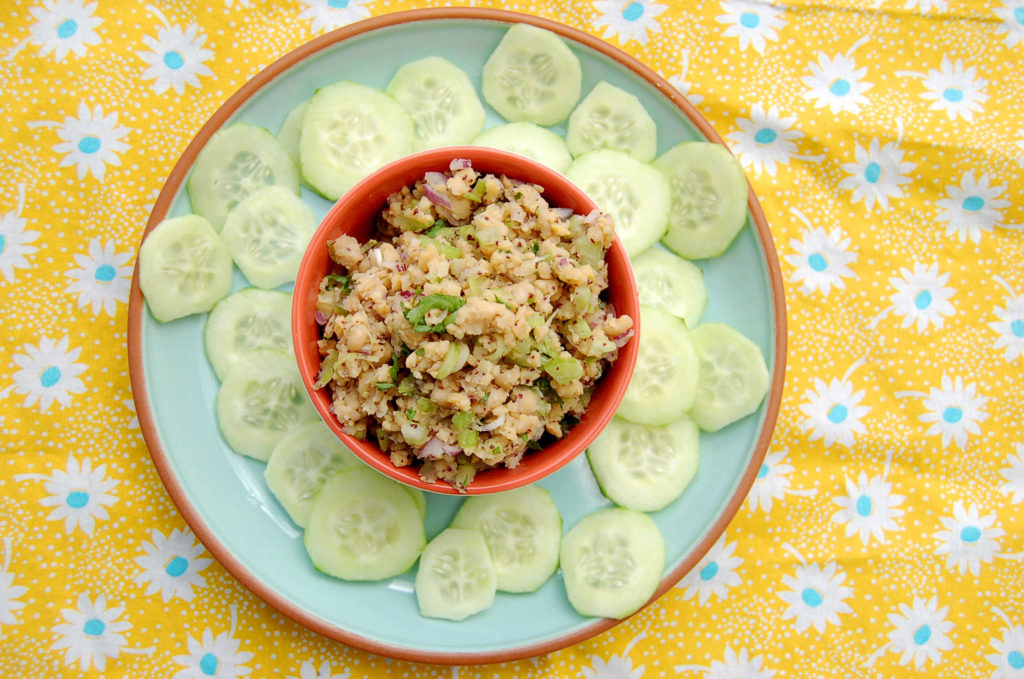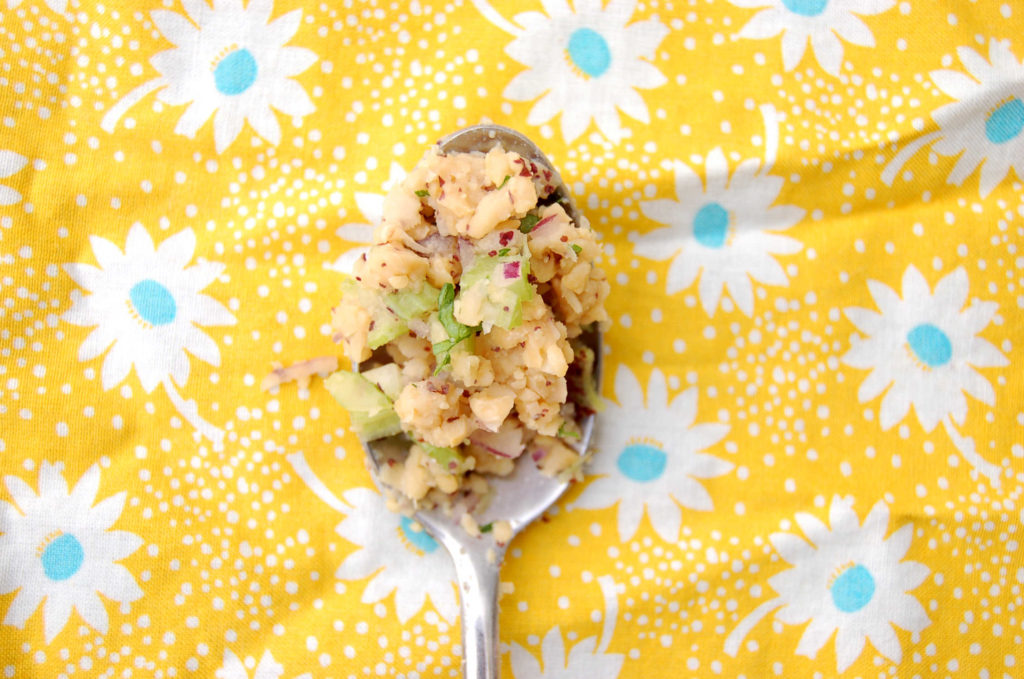 Wishing you a happy week. May it be filled with making food choices that will help your soul house, not hurt it.
Join our live Masterclass to kick sugar to the curb and remind you that YOU are the boss. Check it over here.
Stop the spiral of unhealthy eating and get back to feeling healthy without the frustration of doing this on your own. Tell me more.
Love the food that loves you back
Get instant access to thousands of plant based recipes and meal plans, no credit card or perfection required.