Do you ever get the hiccups in the morning and then keep getting them intermittently throughout the WHOLE day?
It happened to me last Monday, and by the end of the day I was annoyed as shit.

This, along with some other things that have been heavy on my mind had me in a funky funk!
What do you do when you get in a funk?
I recently quit drinking (more on this in a couple of weeks) so I had to find something to help calm and unwind me that didn't require a corkscrew.
Here's what I did.
(I'm certain I looked ridiculous, but I gave exactly zero shits.)
I went outside, turned on the hose, sprayed the sides of my adobe house with water, put my nose to the wet adobes, and sniffed.
Wet earth is my favorite smell, specifically wet adobes.
When I was little, my mom and dad made every single adobe for the house they built, so this smell brings me very quickly to a peaceful, calm, nurtured, and cared for state.
So I stood there and smelled my house until I felt better, instead of drinking wine. 
It's my new thing, and now I can't stop doing it.
In other news, a good friend of my family's died a few weeks ago.
I went to New Mexico for her memorial. It was a beautiful outdoor gathering, amongst tall pine trees, 5 ft. tall sunflowers, vegetable gardens, and chickens. It had been raining the whole day and right when the memorial started, the clouds parted and the sunshine came beaming through the trees.
The memorial was at her son's house, who is an original hippie (homemade house and all). After everyone had shared stories, laughed, cried, read poetry, sat in silence, and soaked in the sobering reality that she was gone, we walked over to bury her ashes and take a shot in her honor (Sapphire gin or lemonade – your choice).
It was the perfect memorial for an incredibly special soul.
When I got home from the memorial I was filled with love, and I couldn't stop thinking about this woman. She was well into her eighties when she passed and from my perspective, she lived her life without holding back.
She smoked cigarettes her whole life, she ate bacon and eggs for breakfast, she loved to smoke pot, she was a talented poet, and she would invite anyone into her house who needed a meal and some conversation.
She would feed them, talk to them and when she was ready for them to leave, she would get up, open her front door and nod them on their way. She didn't care about hurting people's feelings, she never said yes when she meant no, and she wasn't one to give advice or tell anyone what to do.
Maybe this is why so many people came to her when they needed some insight.
When you brought her a problem, you would leave with the answer (that she never gave you).
I kept thinking about how free she was, and how little she gave a flying fuck.
We are so bombarded with how we should and should not live our lives.
Every website and magazine has their version of the should and should not lists.
"The 5 things you should be eating RIGHT NOW"
"7 things you MUST do to dig yourself out of depression, fast!"
"10 reasons to stop eating _______ today"
"5 ways to practice yoga without practicing yoga"
Shit, I have written lists like this.
I even give you advice every week about yummy healthy things to eat.
And there's value in it, but I want to remind you:
Enjoy your life.
Do something naughty from time to time.
And then?
Don't feel bad about it for one second!
Chill out on the should and should nots for a day, a week, a meal, whatever feels good to you.
If that means eating nothing but a baguette dipped on olive oil for dinner, go for it.
Is it bacon that you've been craving for the past three years? FUCK IT. Go eat a piece of bacon.
Maybe you want nothing more than to stay in bed on Saturday and watch EVERY SINGLE episode of Parks and Rec. Dude, Amy Poehler is waiting for you. Make popcorn and invite me over. Please.
Everyone and their posse is telling you to stay FAR away from sugar, but if the only thing that will make you happy today is a piece of strawberry pie in your mouth, then make the recipe below and dig the hell in.
In honor of my friend who is no longer with us in human form, I say:
Fuck advice. You know what makes you happy. Go and do it. 
Vegan Strawberry Pie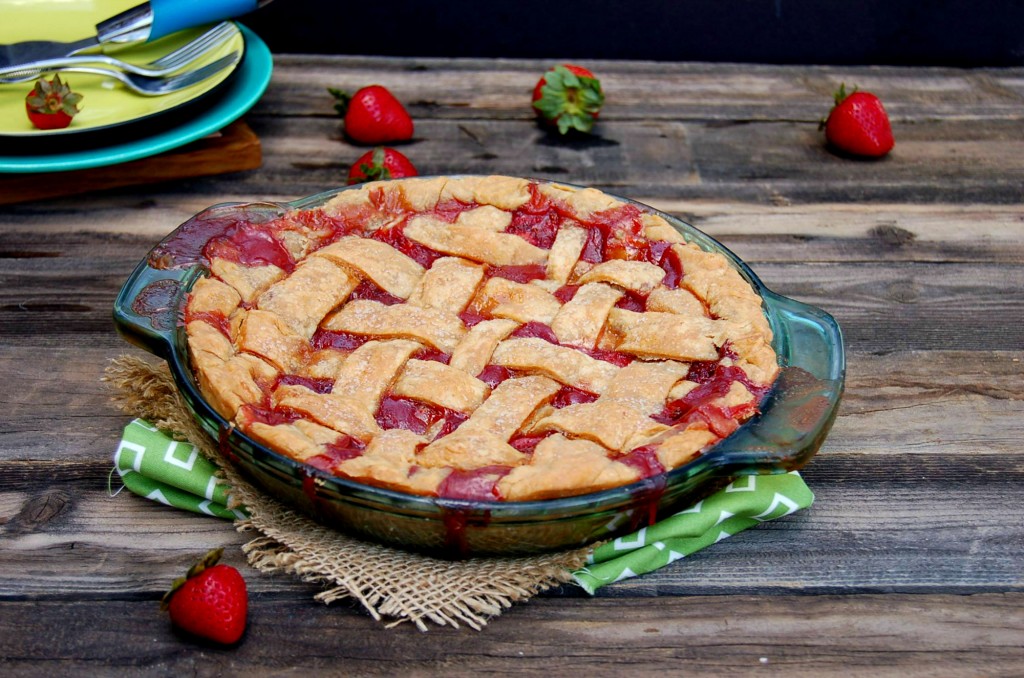 Crust
1 1/2 cups whole wheat pastry flour (180g)
2 sticks Earth Balance buttery spread
1/2 teaspoon sea salt (3g)
1/4 cup plus 3 tablespoons ice cold water (105ml)
The first thing you want to do is put the flour, earth balance, and salt in the freezer and freeze it for at least 1 hour. You can freeze it for as long as you want. Lots of people who are into baking keep flour and butter (or vegan butter as it were) in the freezer so they have it ready when need be.
This is the trick to a melt-in-your-mouth, flaky crust.
It may not be sexy, but it really is all about cold fat.
Once the butter melts, there's no going back, and your crust won't be flaky.
First things first – get your ingredients damn cold.
Next, place a cup of water in a bowl and fill the bowl with enough ice cubes so that they don't melt right away. You want to chill your water before you get your ingredients out of the freezer. Remember, it's all about keeping that fat cold.
When your ingredients are really, really, really cold take the flour, butter sticks and salt out of the freezer and try to do the next steps quickly.
The fastest and easiest way I have found to do this next part is with a food processor. If you don't have a food processor, email me and I'll tell you how to do it without. (

[email protected]

)
Take the buttery sticks and cut them down the middle and then into quarters and place them in the food processor.
Place the flour and salt in the processor.
Pulse the ingredients until everything is combined, and the buttery spread is in little tiny balls, smaller than the size of peas.
Once there are no more big chunks of butter, and you see smaller than pea sized balls, you're good. You can stop processing and pour this mixture into a large bowl.
Next, add your icy cold water (1/4 cup plus 3 tablespoons / 105ml) to the flour mixture, one tablespoon at a time (7 tablespoons in total). Stir the mixture (I always use my hands. Do this part gently, don't squeeze, or knead it as if it were bread or pizza dough. Just gently incorporate the ingredients) until the dough comes together. It shouldn't be wet and it should not crumble.
Bring the dough together in the shape of a ball, and then cut it in half with a knife.
Roll each half into a ball and place it in a plastic bag. Once in the bag, press the ball gently into a disc-shape. Make sure the plastic bag is as airtight as possible and place both discs into the fridge.
Refrigerate for at least 30 minutes (You can do this part a day in advance if you like).
Pie Filling
4 cups strawberries, stems taken off, and cut into quarters (580g)
1 1/2 tablespoons lemon juice (22ml)
1/3 cup sugar (80g)
1/4 cup flour (30g)
2 teaspoons tapioca starch
1/2 teaspoon cinnamon
Combine the berries and the lemon juice in a large bowl and set aside.
In a smaller separate bowl, combine the sugar, flour, tapioca starch, and cinnamon.
Pour this mixture over the berry mixture and gently stir until everything is combined.
Let the berries stand for 15 minutes, and preheat your oven to 425°.
Prepare a clean surface big enough to roll out the crusts, and sprinkle flour to cover the surface.
Roll out the first disc into a big enough circle to place in a 9 inch pie pan with at least 1/2 an inch hanging over the pan.
Take a fork and prick holes in the bottom and sides of the crust. (about 20 pricks should do it)
Roll out the second disc in the same size circle, and while the crust is still on the counter, slice it into ten equal sized strips.
Leave the strips there while you mix the strawberry mixture one more time, and pour it into the pie pan.
Take one of the strips and place it in the middle of the pie. Place another two strips on either side of the first, and another two on the outside of those.
At this point you should have 5 strips on top of the pie that are of equal distance from one another.
You are going to take the next five strips and weave them over and under the existing strips in the opposite direction. This is much easier to do than to explain, so take a look at my pics and you'll see how to do it.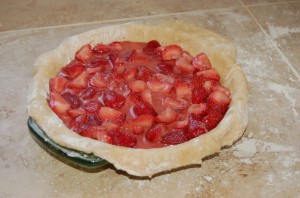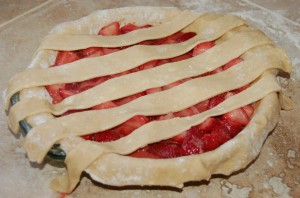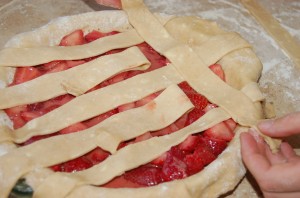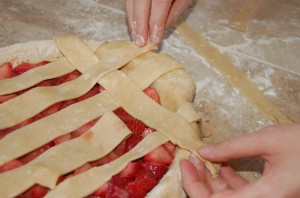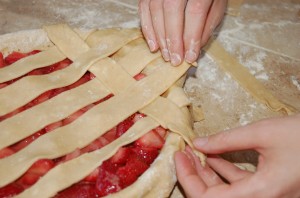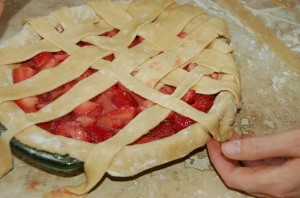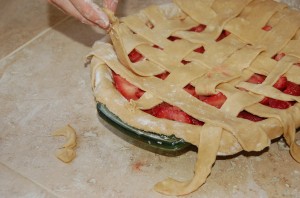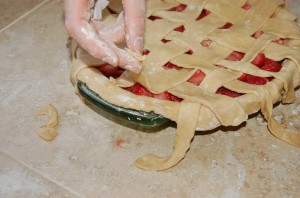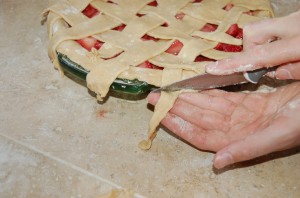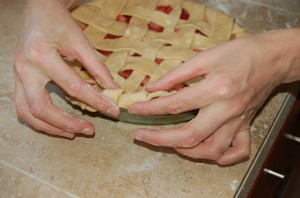 This is called a lattice crust, and you will KICK ASS at it!
The strips will be hanging over the edge – this is perfect.
Take a pair of kitchen scissors or a small knife and trim the edge so that you are left with 1/2 inch all the way around the pie.
Take each end and tuck it under the bottom crust, and pinch the two crusts together. (see pics)
Do this all around the pie until each end is tucked and pinched (I know, it sounds like we're giving this pie botox), and then sprinkle a little sugar over the top of the pie.
Now, ONE last thing before we put this baby in the oven.
Take a few strips of tin foil, and make a cover for the outer edge of the crust, by crimping the foil all around the edge. This will protect the edges from burning. (and now it's like we're giving this pie highlights)
Place in the oven and bake for 10 minutes.
Then, keep the pie in the oven, turn the heat down to 350° and bake for an additional 35 minutes.
Take foil off from pie and bake another 5 minutes.
TA DA! Let cool for about an hour before digging in. The longer it cools the more it will set. If you dig in right away, be warned of lava like flowing filling 🙂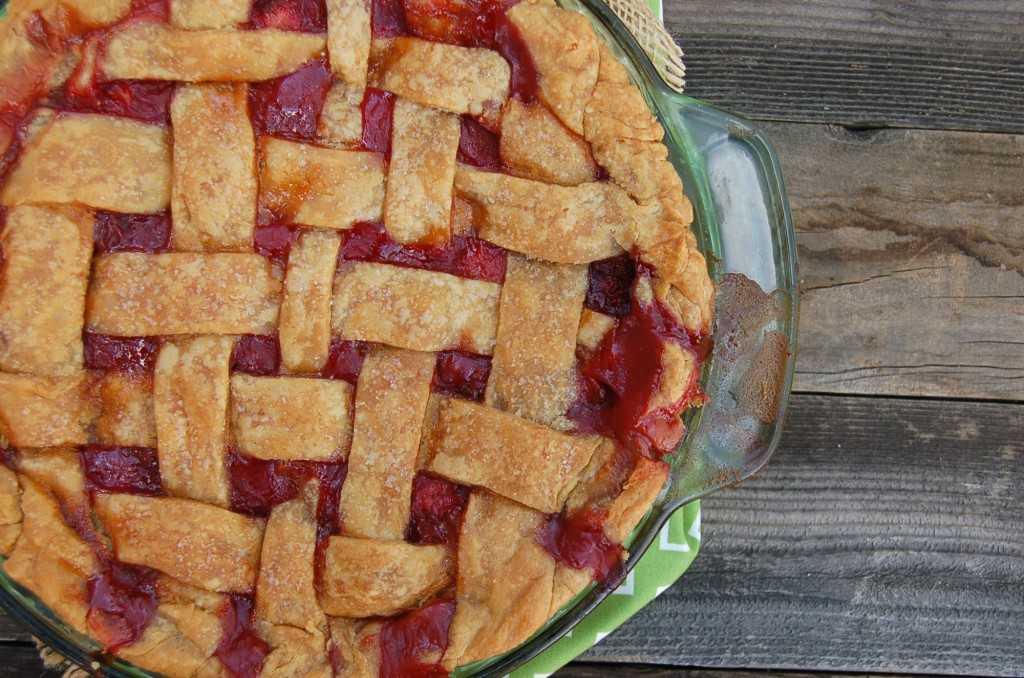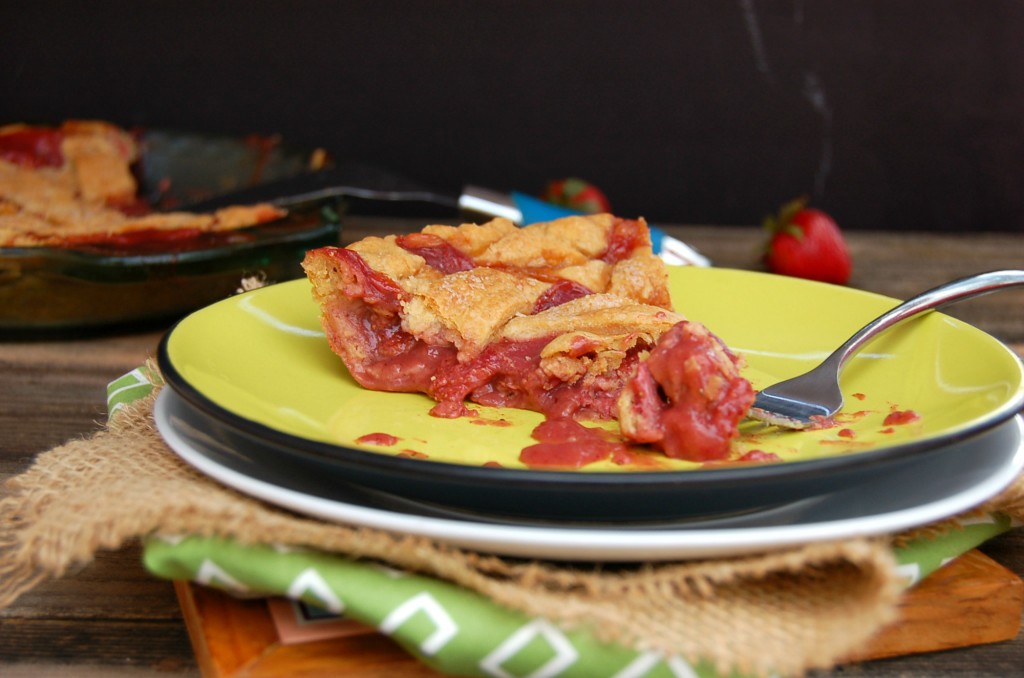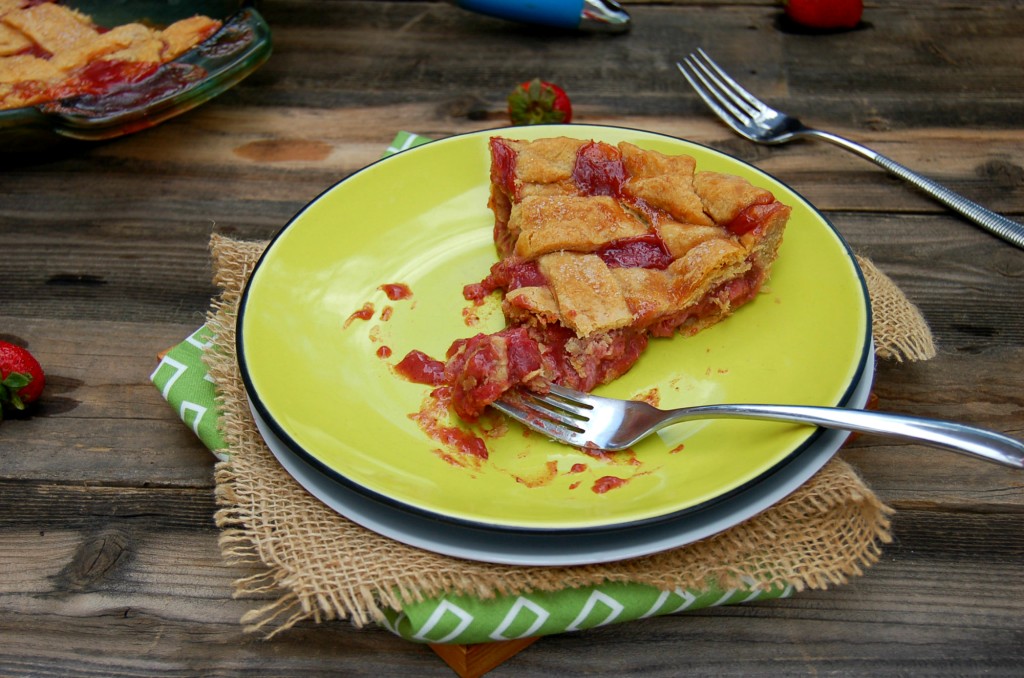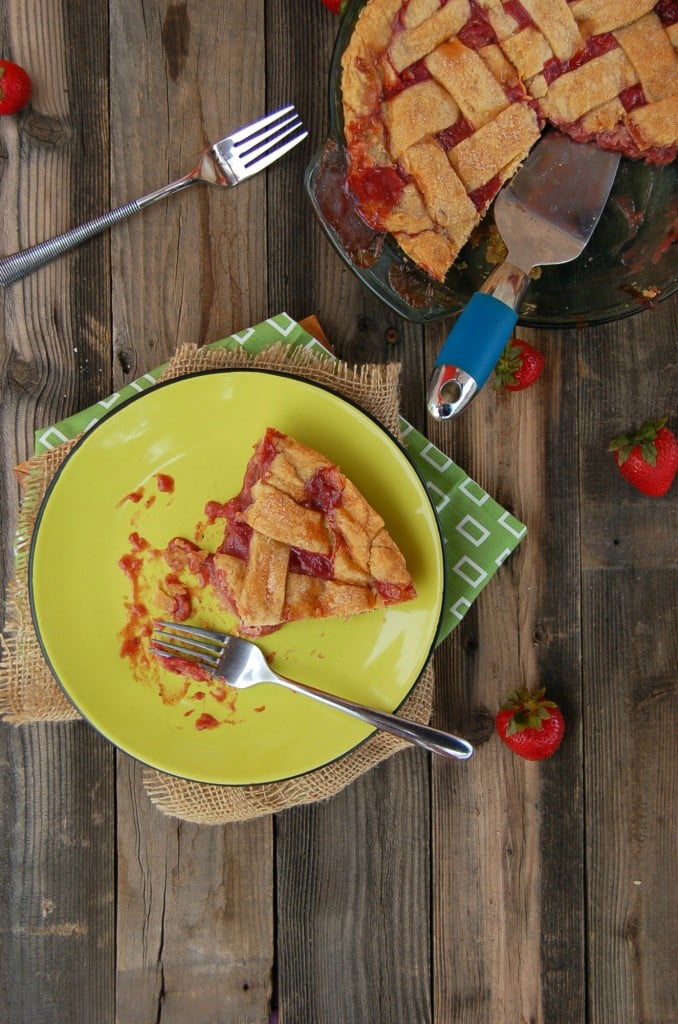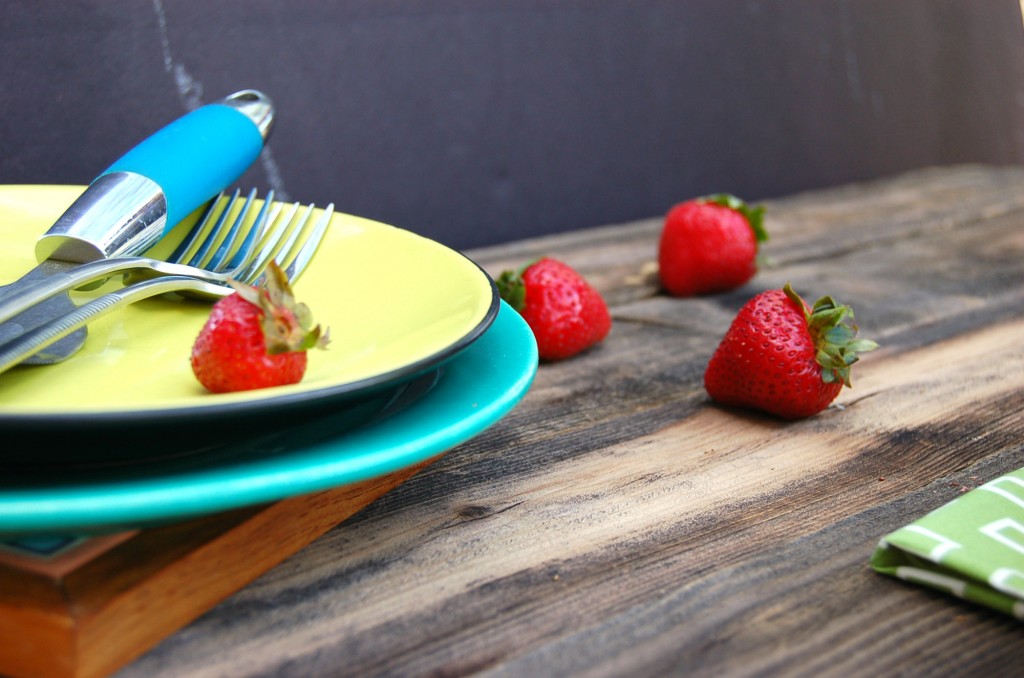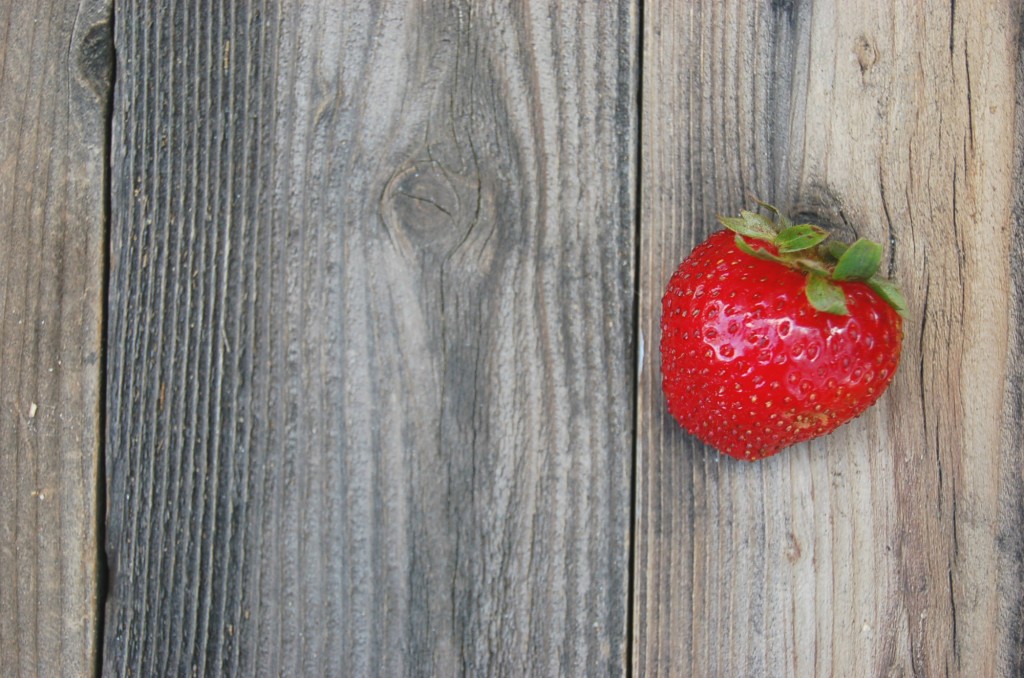 Are you grooving to my jam? Sign up here for my Saturday emails and free Whole Food Plant-Based recipe ebook. Pucker up!