The Two Things That Will End Self-Defeating Eating Habits + Cornbread Stuffing with 5 Minute Gravy
Before I even start today's post, I want to invite you to join our Clean Food Dirty Girl private Facebook group.
If you haven't joined the fun yet, there's 1,000's of us who will give you constant entertainment, inspiration, support, healthy food ideas, and so much more. Our only rule is that assholes will be promptly removed. Join us here and then come back for today's fuck-rama.
Okay – let's start this bad girl up and watch her purrrrrr like a kitten in a cozy winter sweater.
There are a gazillion reasons to eat healthy (not even exaggerating). But you know what my bumble bee? A gazillion reasons aren't always enough.
If they were, everyone would eat like Gwyneth Paltrow, and Kellogg, Kraft, and Tyson would be out of business, and prescription drug companies would be scrambling to figure out how to get people to eat like shit again.
The promise of lower cholesterol, lower blood pressure, a healthy heart, less diabetes meds, a kick ass immune system, and less coughs and colds aren't enough.
Weight loss, better sleep and tons of energy aren't enough. Lowered risks of certain types of cancers aren't enough. Saving the environment and our oceans aren't enough. The possibility of living longer isn't even enough.
And I get it – I do.
I used to drink a lot of alcohol and smoke a lot of cigarettes. And no one is making an argument that smoking and drinking in excess is beneficial. Everyone knows that shit is nothing but trouble.
But that didn't stop me – it took something else for me to stop that nonsense.
So if a gazillion reasons to eat healthy aren't enough, then why are some people able to eat lots of healthy, nutrient dense foods every single day, and some people have a hard time eating a single vegetable in a day?
Why is it that some people can eat a donut or a croissant once in a while, not feel bad about it and then continue to eat healthy, but others will go directly into a downward spiral of sugar and processed food once that donut is in their mouth hole?
There are a couple things that I want to explore with you which will make all the difference in the world. If you have a pattern of self-defeating eating behavior, this will be particularly useful (insert karate chop and karate chop sound here).
Thing Number One: You don't need a gazillion reasons to eat better, you just need one really damn good reason.
And you have to identify it before you even start.
So before you make BFF's with collard greens, invest in a juicer, and make the bulk bin section at the grocery store your new home away from home, your job is to search your soul high and low for your WHY.
Your WHY has to really mean something to you, and you must have an emotional connection with it.
If you have kids, they might be your reason.
If you're tired, unhappy, and on lots of medications and you're ready to change all of that and experience life to its fullest, than that's a sure bet.
If you have a certain goal that's really important and it requires you to get your shit together when it comes to your eating, that will work.
Whatever your reason, it has to be worth the changes that you're planning to make, because at some point during your journey, things will get hairy and your WHY will make or break your success.
If you're changing your diet because you want to be at your best for your kids, that's powerful, and likely worth any discomfort that you go through while getting there.
If you're changing your diet because your partner thinks you look hotter when you're 20 pounds lighter, that has future resentment written all over it. Tell your partner to go find someone 20 pounds lighter and then you find another reason.
Whatever you do, don't skip this step – you need to find your WHY, and it needs to be good because it will act as your anchor going forward.
Allow me to jump on the mic and explain.
When we go from replacing self-defeating habits with better, more productive and healthier habits, an adjustment period is guaranteed. And at times, that adjustment period is fucking ugly.
Whether it's experiencing painful detox symptoms as a result of getting sugar and processed food out of your system.
Getting used to making food preparation a priority in your life.
Eating hummus and kale while everyone else is chowing down on pizza.
Spending time on a recipe only for it to turn out like crap.
Or allowing and sitting with the uncomfortable feelings that come up when you say no to something that you haven't said no to in a long time.
These moments will show up, they will say hi, they will test you, and at some point you will feel discouraged, sad, angry, and impatient.
These feelings are only temporary, but when they hit, if you don't have your WHY set up and in place, it'll be way too easy to say fuck it and stay stuck in self defeating eating habits. Hello Ice Cream Cake.
Your WHY will give you the strength, the courage and the motivation you need to feel those uncomfortable moments, learn from them, and arrive safely on the other side of them.
The bottom line is, as long as your WHY is worth these momentary, passing feelings of discomfort, you'll be able to sail through them without stopping for take out.
Thing Number Two: For any healthy habit to stick, it's crucial to take a deep look and ask yourself why you have a history of self-defeating eating behavior.
Why has there been push-back, fear, hesitation, and anger when it comes to keeping up a healthy eating routine? This is a question that must be answered, and more importantly, you must answer it for yourself. No one else can do it for you.
The fact is, we don't engage in self defeating eating behavior because it's fun and we like to be impossible with ourselves.
We don't eat healthy for a span of time and then drop the ball because we feel better when we wake up and shove candy directly into our pie holes.
We don't eat donuts when we tell ourselves we're not going to eat donuts because we really enjoy failure and think it's cute.
— There's a reason behind your actions and your job is to explore and figure out that reason.
This is crucial because you can't change your behavior if you don't understand the motivation behind that behavior. And finding that motivation takes cracking yourself open and looking for the answers, even if that means wading through your own personal bullshit to find those answers.
Analogy time.
Hypothetically – let's say I refuse to go to the gym. I'm not sure why my stomach starts to hurt and my palms become sweaty when I think about spandex and treadmills, but I'm willing to dig and see what I come up with.
After some questioning and some digging, I realize that I'm self conscious about my body because of some bullshit that popped off in high school.
In order for me to get my ass to the gym, I'd have to start healing those old scars by flooding them with love and start telling myself a new story about my body. This would be the beginning of my healing process. Once those old wounds start to heal, it's spandex and treadmill city.
When you peel back the layers and find the core motivation behind your actions (or inactions), only then can you make shifts in your thinking, start telling yourself a different story, and allow the healing process to begin.
And that's when massive change will start taking place and there will be no stopping you (even if you're tried 100 times before and failed. Remember, no matter how many times you've failed, you only need one success).
And here's the thing, healing from deep wounds has nothing to do with other people or outside circumstances. Healing takes place within you and your bad self – no one else is invited to that party.
Okay- let's land this fat baby with a recap.
In order to put an end to self-defeating eating behavior (or any other bad habits like smoking and drinking every night), you first need to choose your WHY. This is the reason why you're making positive changes in your life. Make it solid, make it heartfelt, and make sure your WHY is worth the temporary bullshit that comes along with change.
Next, grab a shovel and start digging to find out why you have a history of self-defeating eating habits in the first place.
Once you have these two things figured out, you'll be ready to transition from thinking about food as your friend that provides you with joy, comfort, pleasure and entertainment, to thinking about food for what it really is – fuel for your body.
Yes, eating is a wonderful, joyous thing that we are absolutely meant to enjoy, but there's a difference between enjoying your food and needing food to provide you with joy.
That's a tall order to put on food, and you need to start taking responsibility for that one yourself, my love.
When you're emotionally and mentally ready for healthy eating to stick for good, the rest literally comes down to logistics.
Do you want to slowly incorporate healthier foods into your diet and slowly take out the foods that are messing up your hunger scale, or are you the all-or-nothing type and want to do this all in one go?
Do you want to go all the way plant based or do you want to start by cutting out the sugar and processed foods?
Do you want to cut out meat and transition with faux meat or do you want to learn how to get your protein from whole plant foods?
Do you want to learn how to cook healthy meals or do you want to hire a personal chef?
It doesn't matter how you do it. There is no right or wrong way – it's entirely up to you and what works best for you and your body. What matters most is your reason for doing it and understanding why you haven't done it up until now.
If you're ready to go all in but want it to be super easy, just follow along with my weekly Plant Fueled Meal Plans.
Okay – today's recipe is straight up cold weather comfort food. And if you celebrate Thanksgiving, it's a solid meat eater approved side dish to have on your Thanksgiving table.
Ingredients
Cornbread
2

cups

light coconut milk

475ml

2

teaspoons

apple cider vinegar

2

cups

organic cornmeal

285g

1

cup

whole wheat flour

160g

2

teaspoons

baking soda

10g

1/2

teaspoon

salt
Cornbread Stuffing
6

cups

cornbread

435g, cut into bite-sized pieces

1/2

cup

onion

75g, chopped

1

cup

celery

130g, chopped

3

garlic cloves

minced

1/2

cup

apple

65g, chopped

1/2

cup

walnuts

55g, chopped

1/2

cup

parsley

25g, chopped

1

tablespoon

fresh sage

4g, chopped

3

tablespoons

flax meal

25g

1

teaspoon

sea salt

few turns fresh cracked black pepper

1

cup

water or veggie stock

235ml
5 Minute Gravy
2

cups

water

475ml

1/4

cup

whole wheat flour

40g

1

teaspoon

onion powder

1

teaspoon

garlic powder

2

teaspoons

soy sauce

1

tablespoon

nutritional yeast

12g

1

tablespoon

fresh basil

or 1 teaspoon dried basil, chopped

1/4

teaspoon

sea salt
Instructions
Make the Cornbread
Preheat the oven to 400°F (205°C).

Oil a 9-inch baking dish, wiping any excess oil off with a paper towel.

In a small bowl, combine the coconut milk and the apple cider vinegar and whisk to combine. Set aside for now.

In a large mixing bowl, add the cornmeal, the flour, the baking soda and the salt, and gently whisk to combine.

Add in the coconut milk mixture and gently stir.

Pour the mixture into the baking dish and bake for 25 minutes.
Make the Cornbread Stuffing
Preheat oven to 400°F (205°C)

Place the cornbread on a baking sheet and bake for 15-20 minutes, until it's nice and toasted. Take out and set aside for now.

Heat a skillet over medium heat for about a minute. Add the onions and cook for about 5 minutes, adding 1 tablespoon of water at a time when they start to stick. Each time you add the water, mix the onions with a spatula to get any onion bits off from the pan. The goal is for the onions to have a nice deep brown color.

Add the celery and the garlic and cook for an additional 5 minutes, adding 1 tablespoon of water when necessary.

Place this mixture into a large mixing bowl and add the toasted cornbread, apple, walnuts, parsley, sage, flax meal, sea salt and black pepper. Stir to combine.

Slowly add in the water and gently combine with your hands. It's okay if some of the cornbread pieces disintegrate - just do this step gently so that they don't all lose their shape.

Place the mixture into a 2 quart baking dish and bake for 25 minutes.
5 Minute Gravy
Place all of the ingredients into a large jar and secure with a lid.

Shake the jar vigorously until all the ingredients are combined and there are no clumps of flour in the mixture.

Pour the gravy into a small saucepan, and heat over medium heat, whisking frequently until the gravy is thick, about 3-5 minutes.

Serve the cornbread with the gravy and garnish with fresh parsley.
Notes
There are three components to this dish - but don't let that scare you. The cornbread is super easy to whip up, the stuffing takes hardly anytime at all, and the gravy takes seriously 5 minutes to make. You can make the cornbread a day in advance to make the prep easier. Here she is, from my kitchen to yours.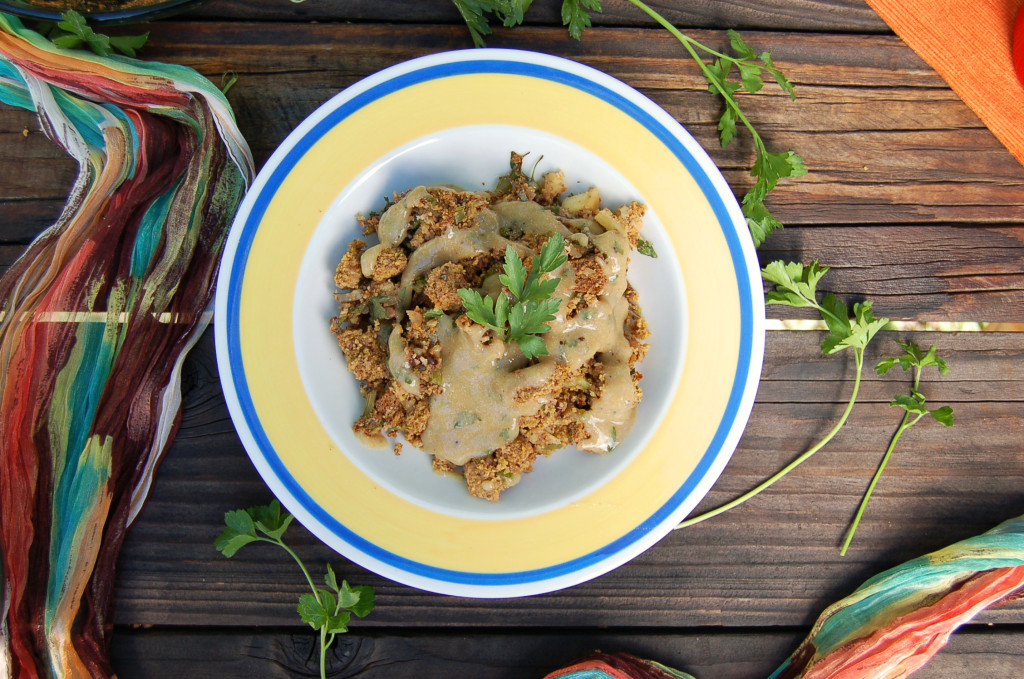 Wishing you a happy weekend. May it be filled with exploring depths of yourself that you've been putting off.
Fall in love with plant based cooking
Love the food that loves you back
Get instant access to thousands of plant based recipes and meal plans, no credit card or perfection required.