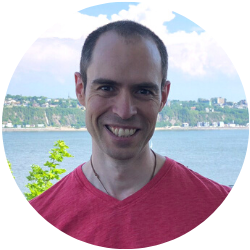 Carl is a fan of mechanical keyboards and vegan cheesy sauces.
He is a French Canadian raised in a small town near the Canada/US border. After studying molecular biology for far too long, he decided to follow his dream of becoming a software developer and founded codebards.io with his partner Magalie.
He works on the Plant Fueled Life online membership portal from Quebec City under the watchful eyes of two giant cats.
Rosemary Cheese & Veggie Topped Flatbread, Fajita Rice Bowl with Crushed Chili Lime Spiked Corn Chips, Teriyaki Tofu Tacos.
I get to work with a calm team with a meaningful purpose.
Eating plants has tremendously increased my compassion, it's made me a better person.