The 4th of July kicked major ass for me as a kid.
There was the parade, the ice cream social, the fireworks – it was all very exciting.
Of course, I come from an itty bitty town of 10,273 people, so the festivities were on the smaller scale of things. Luckily, I had no idea since it was the only 4th of July festivities I had ever experienced, the internet wasn't a thing yet, and my family had no T.V.
To me, it was brilliant. Or as Derek would say, "I loves it".
(Have you watched Derek, btw? Amazing fucking show – Bravo Ricky Gervais.)
Our parade was a couple of horses, a guy riding a unicycle, a couple of floats that were made by the bank, the high school marching band, some cheerleaders, two police cars and one fire engine.
After the parade there was the ice cream social that was held at our town's museum (it was all very 1823), where I got to eat ice cream and then try my luck at the cakewalk that I never once won.
After that, we would go home and gear up for dinner and fireworks.
When it got dark, we would light our fireworks and of course, play with sparklers. When that fun was over we would throw some blankets in the back of my dad's old pickup truck, drive to the top of our hill and wait for the town's firework show to begin.
It was always a bang up day (wink, wink) and one of my favorite days of the year.
The summer I turned 10, my family and I took a vacation to Racine, Wisconsin to visit family. We were there on the 4th and I was so excited for the party to begin.
And when it did… I was devastated by the shittyness of my past ten 4ths.
The parade lasted for like two hours, it had a ton of awesome floats and there was a shit load of candy thrown to the crowd.
The fireworks went on forever and they lit multiple fireworks at one time, creating an orchestra of color in the sky.
The whole experience felt like never having sugar as a kid and then discovering warm apple pie and vanilla ice cream.
The warm apple pie and vanilla ice cream is fan-fucking-tastic, but you know that you can never go back to no sugar without thinking of the flaky crust, warm apples, and cool vanilla in your mouth.
I was ruined.
I hope that wherever you are to celebrate your 4th, you have a happy one, with lots of fireworks, yummy food, and an awesome fucking parade.
Make this relish and add it to your burgers or dogs, or even add some to your macaroni or potato salad.
It will make your day that much tastier.
Sweet Zucchini Relish
Sweet Zucchini Relish
I usually don't make recipes with sugar, but rules are meant to be broken.
Ingredients
10

cups

zucchini

1.45kg, chopped

4

cups

sweet onion

460g, chopped

1

red bell pepper

chopped

1

green bell pepper

chopped

1/2

cup

sea salt

155g

2 2/3

cup

apple cider vinegar

4

cups

sugar

845g

1/4

teaspoon

black pepper

1

teaspoon

ground nutmeg

4g

1 1/2

tablespoons

mustard powder

12g

1

teaspoon

turmeric

4g

Four 16 oz. glass jars with lids
Instructions
Place the chopped zucchini, chopped onion and chopped pepper in the the food processor in batches. Add some of each ingredient and fill the food processor halfway.

Pulse a couple time and then process until everything is chopped up and uniform, looking like the consistency of relish.

Place into a large bowl and do this until all the zucchini, onion and peppers have been processed.

Pour the salt over the mixture and stir well.

Transfer to a smaller container, cover with a lid, a plate or plastic and place in your fridge overnight.

Place the soon-to-be relish into a fine sieve and rinse it with water. Press the mixture into the sides of the sieve with a spoon to get as much liquid out as possible. (you may need to do this in two or three batches depending on the size of your sieve.) Set aside for now.

In a large mixing bowl, add the apple cider vinegar, sugar, black pepper, nutmeg, mustard powder and turmeric, and whisk to combine.

Place the relish veggies and the liquid mixture into a large pot, stir and bring to a boil.

Reduce the heat and simmer for 30 minutes without a lid, stirring occasionally.

While the relish simmers, boil enough water to fill all four of your glass jars.

Wash your jars and rinse them thoroughly. When the water boils, carefully pour the water into the jars and set aside.

After the relish simmers for 30 minutes, turn off the heat and go back to your jars and pour out the water.

Fill each jar with relish, leaving about a half an inch of space in each jar.

Make sure there is no relish on the rim of the jar, and then place the lids on each one.

Leave the jars of relish sitting out until the cool completely and then place one jar in the fridge and 3 jars in the freezer.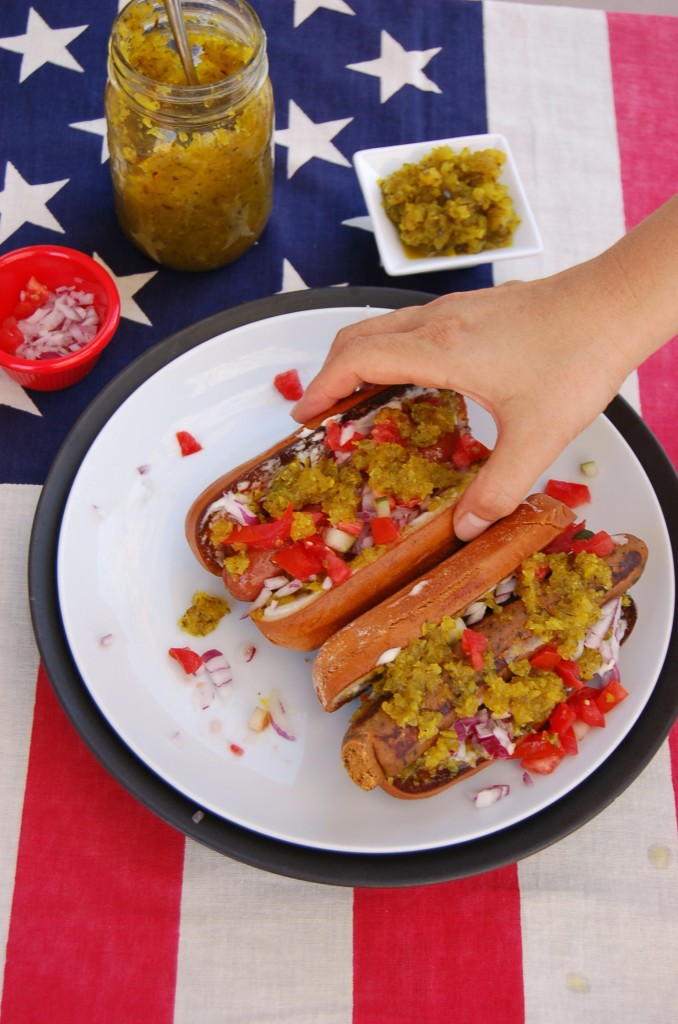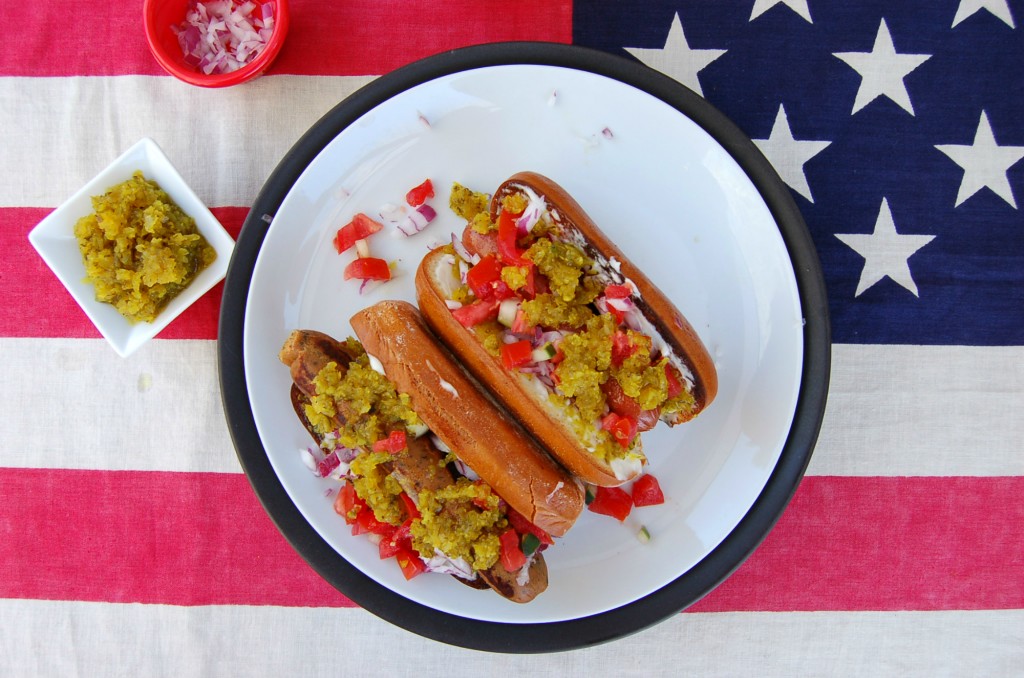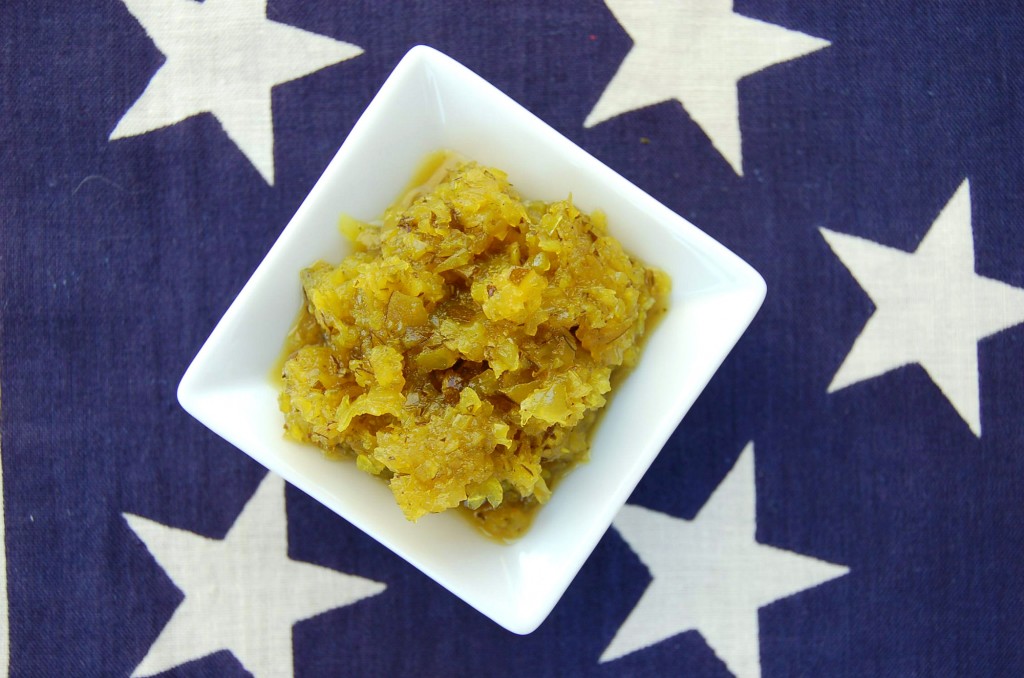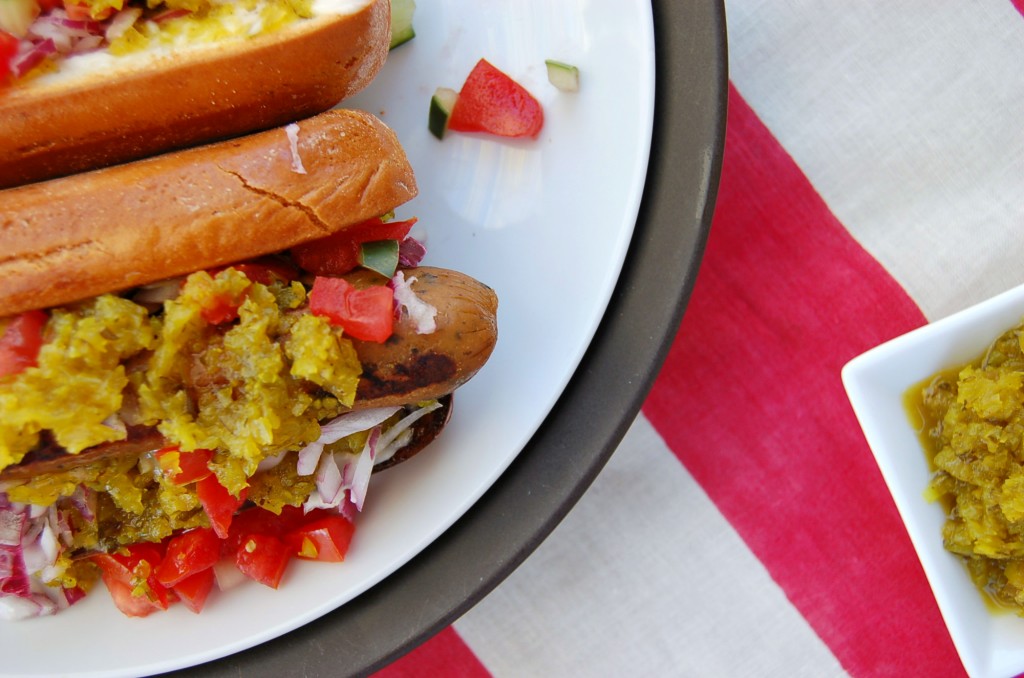 And the blooper reel below on how NOT to make Zucchini Relish
Are you grooving to my jam? Sign up here for my Saturday emails and free Whole Food Plant-Based recipe ebook. Pucker up!