My dad is arguably one of the most kind hearted people on the planet.
If you ask anyone who knows him, they will agree without hesitation.
My mom had been married and divorced three times before she met my dad, and she had three kids when they met. The two of them fell in love at first sight, and it has been on ever since. This year marked 40 years of the two of them loving each other (and of course, sometimes annoying the shit out of each other).
Mom says that before she met my dad she had had it with men. And then my dad showed up, and she was like, Well, fuck.
There are many things that I love and admire about my pops and today's fuckery will cover some of that ground.
ONE:
Every time he leaves me a voicemail this is what he says:
"Hi Molly, this is your papa, you must be out. I'll try back later"
Now, my dad knows that he's leaving a message on my cell phone, but the fact that he says "you must be out" tells me that he has yet to fully accept the fact that landlines and answering machines are a thing of the past.
Getting a voicemail from my dad makes me happy, every time. And then I make sure to always have at least one of his messages saved so that I can listen to his voice when he's dead. The guy isn't sick or anything, I'm just neurotic and like to plan ahead.
TWO:
When people mistake him for Willie Nelson, which they often do, he goes along with it, complete with an autograph. The more you know my dad, the more sense I make.
THREE:
When he and my mom go on a hike and I ask him about it he sometimes says: "It was good, but there were lots of old people on the trail hogging it and going slow." I casually ask ask him how old are we talkin' ? and he says, "I don't know, 70?"
He's 68 and my mom is 72. You do the math.
FOUR:
His love of music and vinyl. My dad's a music guy. Just last week we went to jam to Brandi Carlile together. He made the comment, "I'm the oldest dude here". I told him he was correct and that he needs a prize in the form of a walker. We laughed.
He introduced me to Bob Marley, The Doors, Jimi Hendrix, Pink Floyd, The Rolling Stones, The Grateful Dead, Janis Joplin, Neil Young – all the greats.
Dad took me to some of my first concerts. Pink Floyd, The Stones, Neil Young – he wanted to make sure good music was part of my foundation. When I went through my New Kids on the Block phase he was sure he had failed. I eventually came around.
Most of all, I love the fact that through all of the bat-shit crazy choices I've made in my life, my dad has been supportive, loving, compassionate and there for me 110%. I could tell the man anything and I know with certainty that he would never judge me and that he would love me through it (my mom is the exact same way).
I don't know what I did to get such a solid set of parents but I did something right, that's for damn sure.
On December 6th, 2013 dad almost died due to congestive heart failure. Mom called me at 5:30am the next morning and told me that she had been with him all night in the ER, and after 12 hours, they were finally able to stabilize him. Luanne and I were on a plane 2 hours later (we were in Oakland, they were in New Mexico).
We arrived later that night and visiting hours in the ICU were over, so we had to wait until the next day to see him. We visited mom, hugged her, cried with her and had a restless night's sleep.
The next morning we booked it to the hospital, walked into the ICU, found his room and I hugged him like I had never hugged him before. I have never taken one second of my dad for granted since that moment.
It ended up that he had to be transferred to a hospital 3 hours away by ambulance where there was a hospital and doctors who could do the procedure that he needed. The operation went smoothly.
His doctors told him that he would be on medication for the rest of his life and they needed to see him every month for the first three months and every three months after that.
Mom and dad said goodbye to the small town that had been home for 35 years as well as the house that the two of them had built by hand. They needed to be closer to a good hospital, his doctors and an airport should his daughters need to easily fly in if there was another emergency.
My dad is from Wisconsin and that was always obvious based on his love of cheese, deli meats, beer and football.
From the moment dad got out of the hospital, he and my mom were on a mission to do everything in their power to make sure he never went through that again. From then on it was green smoothies, no salt, soups, salads, and nothing but whole plant foods (well, not entirely – there is still beer in his life – just not as much).
He left the hospital with 5 different prescription medications that he was to take daily.
One month after his release, he was taken off from every single one of his medications. His doctors couldn't believe his recovery. They still can't.
Every time dad goes in for his heart checkups, now just once a year, the nurses and doctors are stunned that he isn't on one single medication and that his heart is in such good shape, especially considering he had heart failure less than two years ago.
When he was admitted into the ER in December 2013 his ejection fraction was at 15%, today it's at a very healthy 70%. His doctor always tells him to keep doing whatever it is that he's doing. To this, dad says, "Okay, I'll keep walking, swimming and eating healthy vegan food every day", and then he plugs my website.
Sometimes it takes going through really scary shit before people are ready to change. And if they're lucky, they get the chance. And when this happens, the trajectory of their life changes forever. This experience certainly changed my dad's life.
Dad was always a hard working guy. He built houses, did landscaping, gathered and sold firewood – all very physically demanding stuff. After his heart episode, the reality set in that he had to slow down. This was both welcomed and challenging for him. It also opened the door to a new chapter in his life.
Back in the 70's dad used to make collages. He started this after he got back from serving in the Vietnam war. I always thought his art might be a form of therapy, but I've never asked him about this because I was told when I was little not to talk to my dad about the war. So it's not something I bring up. I only know that he has two purple hearts, a bronze star medal, and that after the war, he moved to Colorado and embraced the hippie life.
A couple months after he got out of the hospital I remembered that he used to make art, and I asked him if he would make a collage for me. He hadn't made on in over 30 years, but two weeks later I had a bad ass collage hanging on my wall.
To my surprise, he didn't stop. He would collect used boards that were going to be tossed out, clean them up and then start cutting out images from random magazines, newspapers, flyers, etc.. and create colorful pieces of art. He kept making them like he had been doing it his whole life. Eventually he started selling them and he's even made personalized pieces for art collectors and shipped them as far as Hong Kong.
So this is now what he does. He makes art. He swims. He walks. He listens to vinyl. He drinks green smoothies and eats healthy, Molly approved food.
And he does it all with a healthy heart.
Not all stories have a happy ending. Every single day I am grateful that this one does.
Thank you dad for being the best dad anyone could ever ask for and for sticking around- I love you.
Okay – here it is, Potato Salad with zero oil and zero vegan mayo. This has been on my plant-based recipe bucket list for a while now. I am happy to say that I conquered it. It's a fave in our private Facebook group.
Trust me, you're going to want to make this one.
Classic Plant-Based Potato Salad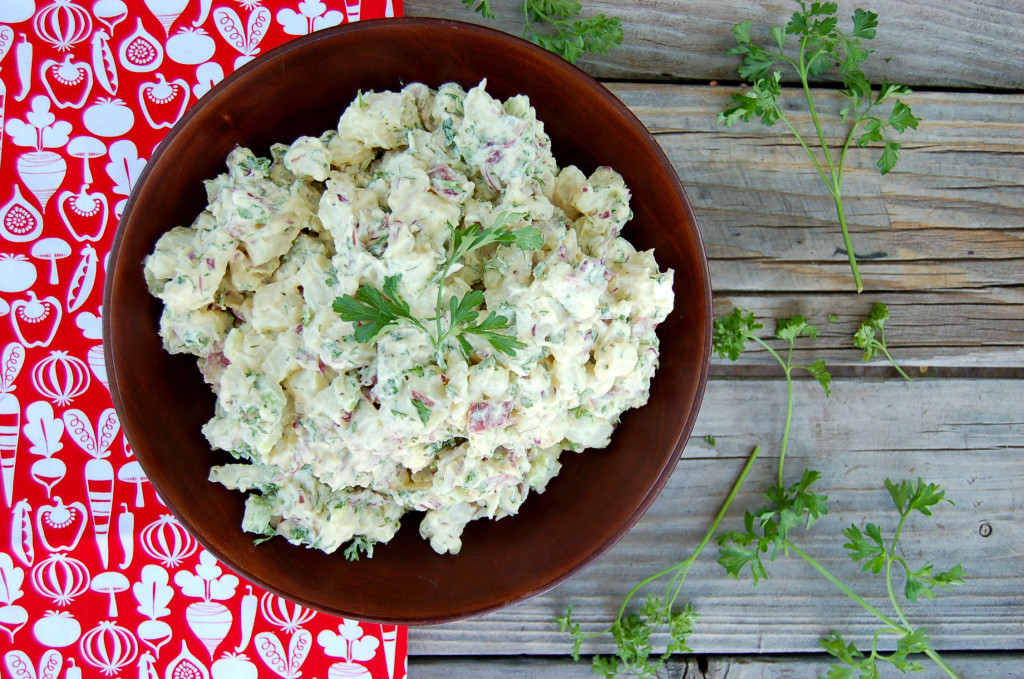 6 red potatoes, cut into quarters (I leave the skin on, you can take it off if you want)
1 cup celery, chopped (115g)
1 cup red or yellow onion, diced (115g)
1/2 cup parsley, finely chopped (20g)
2 tablespoons fresh dill, chopped (6g)
Dressing 
1 cup cashews, soaked in water for at least 10 minutes (135g)
2 dates, soaked in hot water for 10 minutes (be sure to take the pit out)
2 garlic cloves, chopped
1 tablespoon yellow mustard (18g)
1/4 cup nutritional yeast (18g)
2 tablespoons apple cider vinegar
1 teaspoon sea salt (6g)
1 cup water
Add the quartered potatoes to a large pot and completely cover them with water by 1 or 2 inches. Place a lid on the pot at an angle and cook for 25 minutes or until you can pierce them with a fork.
Drain the potatoes and set them aside to cool.
Make the dressing by draining and rinsing the cashews and placing them into the blender along with the rest of the dressing ingredients (dates – make sure to drain the water and remove the pit before adding the dates to the blender  – garlic, mustard, nutritional yeast, salt, apple cider vinegar, and water). Blend until totally creamy and smooth, about a minute. Set aside for now.
When the potatoes are cool enough to handle, cut them into bite-sized pieces and place them into a large mixing bowl and add the celery, onion, parsley, dill, and all of the dressing.
Gently stir until everything is combined and add salt and pepper to taste.
Best served cold.
I hope you have a happy week. May it be filled with connecting with your dad, even if he's not around anymore.
xo
Are you grooving to my jam? Sign up here for my Saturday emails and free Whole Food Plant-Based recipe ebook. Pucker up!