Here's another winner and super yummy recipe for you. I was inspired by a friend of mine to make cashew artichoke dip.
The addition of sautéed mushrooms gives this dip / spread a deep, rich flavor that even the pickiest of eaters will like. This recipe is awesome as a straight up dip (think pita or crackers) or you can use it as a spread on a sandwich (see the recipe below), or you could get really fancy and use it as a pizza topping. However you decide to serve it, your peeps will be impressed.
Baked Tofu and Artichoke Mushroom Cashew Griller


What You Need for the Artichoke Mushroom Cashew Dip/Spread
1 cup cashews
1 jar Artichoke hearts (6oz.), drained
1 teaspoon lemon juice
1/2 cup packed fresh basil
1/2 teaspoon salt
1/2 teaspoon sugar
1 teaspoon olive oil
2 cups mushrooms, sliced
3 tablespoons vegan mayo
How To Do It
Place the cashews in a bowl and soak them in enough water to cover them by an inch. Soak them for at least 1 hour (you can soak them up to 24 hours. The longer you soak them the creamier the final dish will be).
Once the cashews are done soaking, place them along with the artichoke hearts, lemon juice, basil, salt and sugar in a food processor.
Heat 1 teaspoon of oil in a pan and sauté the mushrooms for 4 minutes, stirring intermittently.
Add mushrooms to food processor and process until all ingredients are combined (you don't want it smooth like paste, you want there to be some texture but make sure there are no big chunks of cashews).
Place mixture in a mixing bowl and add the vegan mayo.
Stir to combine and if you have time, chill for 1 hour.
So, now that you have that recipe, let your culinary creativity run wild.
OR, you can let me do the thinking and just make this for dinner.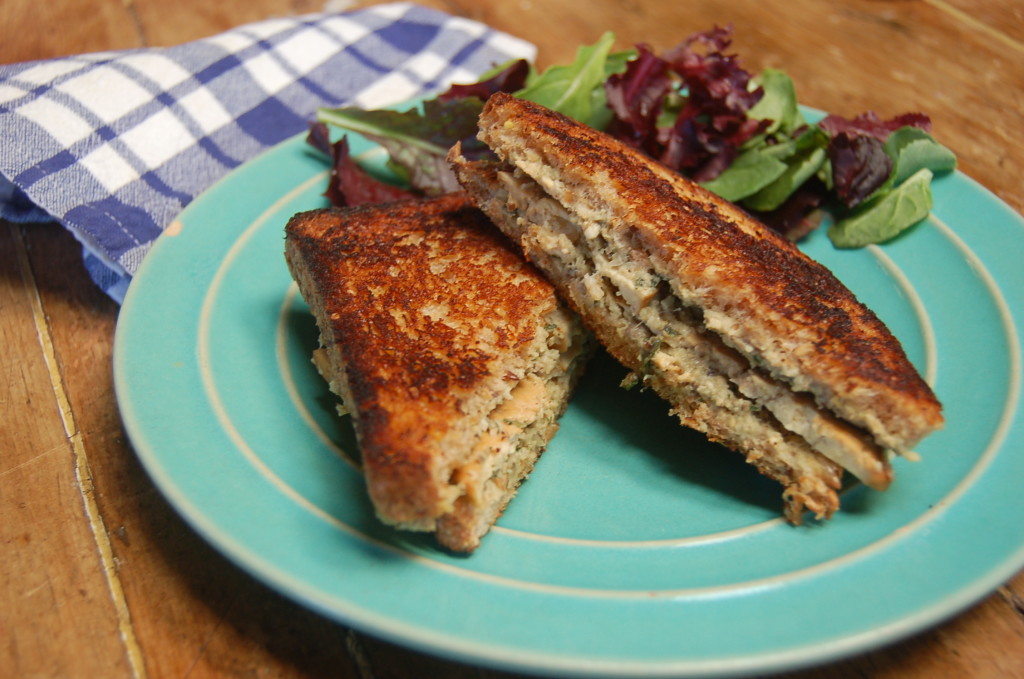 What You Need for The Griller
2 pieces of sprouted bread
Artichoke Mushroom Cashew dip/spread
Baked tofu, thinly sliced
Vegan mayo
HOW TO DO IT
Place a generous helping of the artichoke cashew spread on each piece of bread, followed by the baked tofu.
Put sandwich together and spread vegan mayo on the outsides of both pieces of bread.
Place the sandwich in a heated pan for 2 minutes on each side over medium / low heat.
Are you grooving to my jam? Sign up here for my Saturday emails and free Plant-Based recipe ebook. Pucker up!